On one weekend each year, the Club opens its doors to members of the public, and offers trial lesson flights without pre-booking, on a first come, first served basis.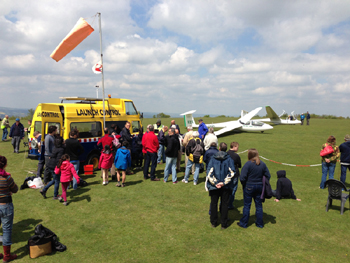 The Open weekend in 2017  is on Saturday 29th April and Sunday 30th April. It all starts at 09:00am.
Have you ever wondered what it would be like to fly in a glider? Come to our Open weekend and you can experience silent flight while flying with a qualified Instructor. You can even try the controls.
Special Rate
On our Open Weekend, there is a special rate of £40, this iincludes 1 winch launch. Flight time will be a maximum of 15 minutes, but is dependent on the weather.
Who can glide?
There are some restrictions on pilot height and weight. Young people under the age of 18 will require a parent or guardian's written consent.  Also there are a few medical conditions which may make it unsafe to fly.
If you are uncertain or want to discuss things first, please contact the club for further information.
No need to book
Please note that this event is operated on a first come - first served basis, flights cannot be pre-booked.
Refreshments
Hot and cold food and drinks are available all day.
DAAT
The Devon and Somerset Gliding Club supports the Devon Air Ambulance Trust and a proportion of the flight cost from the Open Weekend is donated to DAAT.
Notice for visitors
Please see the airfield layout and safety notices.
Watch a video of  a day at the Club
C'mon you know you want to!
 Download the poster (pdf)