The President's Trophy (aka Norman Whyte Shield) was presented to the Club by Norman Whyte who was President 1957 to 1973. It is awarded annually for the best progress.
In 2012, the Shield was completely full with winners date plates, and underwent a complete refurbishment, with all the past winners names engraved on a plate on the reverse.
In 2018, it was awarded to Andy Davey for the best progression through the year - Andy achieved Bronze, Cross-country Endorsement, Silver Height, and Gold Height (at Brentor).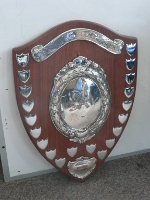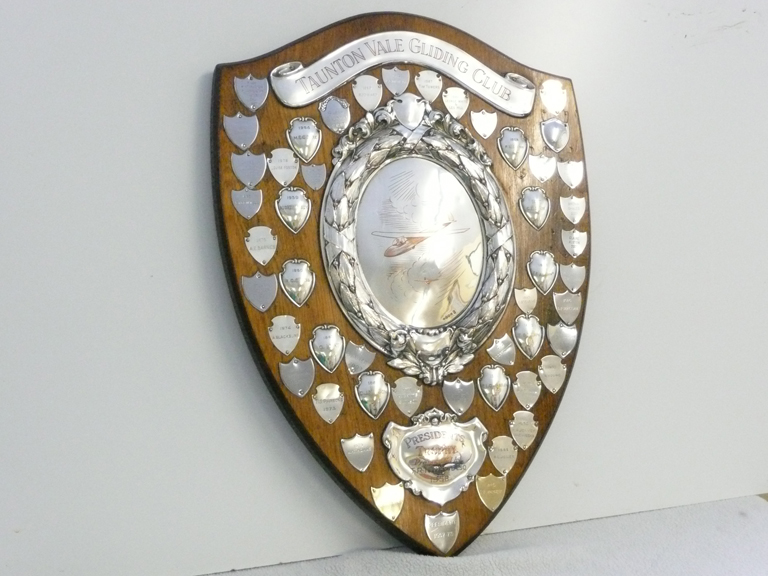 | | |
| --- | --- |
| Year | Awarded to: |
| 2018 | Andy Davey |
| 2017 | Ellie Carter |
| 2016 | Will Stainer |
| 2015 | Pete Bennett |
| 2014 | Matt Williamson |
| 2013 | Pete Bennett |
| 2012 | Mark Eatough |
| 2011 | Dylan Davies |
| 2010 | Rowan Smith |
| 2009 | Paul Summers |
| 2008 | Peter Smith |
| 2007 | Chris Aldridge |
| 2006 | Richard Barton |
| 2005 | Andrew Muggleston |
| 2004 | Richard Brown |
| 2003 | Stuart McKellar |
| 2002 | Claire Alston |
| 2001 | Bronia Shales |
| 2000 | Claire Alston |
| 1999 | Steve Westlake |
| 1998 | |
| 1997 | Robert Lee, Peter Stapleton, Paul Carpenter |
| 1996 | Luke Roberts |
| 1995 | Julie Minson, James Warren |
| 1994 | John Murray |
| 1993 | Dick Stevens |
| 1992 | Richard Petheram |
| 1991 | Stuart Proctor |
| 1990 | Sarah Baldwin |
| 1989 | Rod Ward |
| 1988 | Alan Davison |
| 1987 | Tim Towers |
| 1986 | George White, Les Hill |
| 1985 | Steve Fitzgerald, Jonathan Smith |
| 1984 | Dave Brummitt |
| 1983 | Eddie Bromwell |
| 1982 | Dave Andrews |
| 1981 | Duncan Babbington |
| 1980 | D R Massam |
| 1979 | A H Thomas |
| 1978 | Gordon Peters |
| 1977 | Kevin Jenkins, Simon Minson, |
| 1976 | Louise Norton |
| 1975 | Alan Barnes |
| 1974 | Andrew Blackburn |
| 1973 | Tim Parsons |
| 1972 | R Young |
| 1971 | Dave Bailey |
| 1970 | Tim Jenvey, W C Weekes |
| 1969 | Nick Jones |
| 1968 | R M Cooper |
| 1967 | C H Slade |
| 1966 | Ted Hayter |
| 1965 | Pete Warren |
| 1964 | |
| 1963 | T C Brown |
| 1962 | G Leat |
| 1961 | Dave Minson |
| 1960 | RegChubb |
| 1959 | Audrey Kelsey |
| 1958 | Monty Dore |