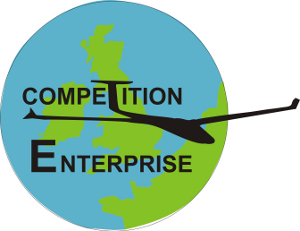 Competition Enterprise returns again to North Hill, - the birthplace of Enterprise
1st  - 8th July 2017
Entries open on 1st January 2017, places are limited  and will be allocated on a first come first served basis.
Download the Competition Enterprise 2017 Entry Form (pdf)
Please print off and complete, then either scan and email or post  to Andrew Cluskey CE Secretary (please see information on the entry form)
Download the Competition Enterprise 2017 Entrant information (pdf, last updated 1 January 2017)
List of Pilots entered (last updated 19 May 2017 )
List of Sponsors (last updated  )
Tasks and Results ( will be shown here)
Competition Enterprise was conceived by Philip Wills in 1974 and run by John Fielden up to his death in 2002. It continues to be held every year at a variety of gliding sites around the UK.
Our prime aim is to maximise the soaring day -
Competition Enterprise does not claim to be better than modern competitions,
- just different

!