Open Day– Saturday 28th April 2018
The club will be holding an Open Day on Saturday 28th April 2018 and for just £40 will give you the opportunity to experience this amazing sport first hand.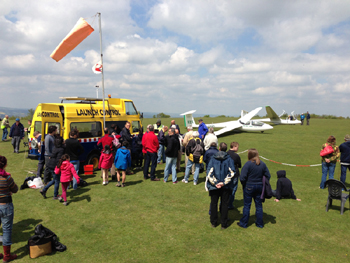 The Devon and Somerset Gliding Club is the largest gliding club in the South West and has enabled its members to enjoy the magic of gliding for over 60 years. We have a modern fleet of club gliders, good club facilities and a team of British Gliding Association (BGA) qualified instructors, who provide training to help new members to learn to fly in the skies above the stunning East Devon countryside.
On Saturday 28th April 2018, the Club will be open to members of the public. For just £40, you will have the opportunity to experience this amazing sport first hand without having to pre-book. You will fly with one of our qualified instructors from a winch launch for up to 15 minutes, and will even be able to take the controls.
We are based at North Hill airfield on the Blackdown Hills between Honiton and Cullompton. We provide training to our members in a modern fleet of two-seater gliders. Once solo, members can fly one of the club's single seat gliders. We offer launches by winch, and by aerotow using our own Piper Pawnee towplane.
Gliding spans all age groups and our members are drawn from a variety of backgrounds across the South West. The Club welcomes members of all ages, young people can fly solo from the age of 14, and there is no upper age limit. The Club has an extensive team of experienced, fully qualified BGA instructors to take members through from their very first flight to their first solo and beyond. The Club has been a BGA accredited Junior Gliding Centre for several years and has a thriving Junior membership.
The clubhouse will be open throughout the day, with hot and cold drinks, snacks and light meals available.
This is usually a very popular event and many people enjoy their first flight in a glider. A contribution from each flight will be donated to the Devon Air Ambulance Trust from the proceeds of the event.
Devon and Somerset Gliding Club is a non-profit making club, run by and on behalf of its members.Gliding is an affordable, challenging and exciting sport for all.
For more information, please visit our website http://www.dsgc.co.uk/