The Kelsey Plate is awarded annually for the longest cross-country flight from North Hill.
"Audrey Kelsey, a flying member with a C certificate, has very kindly donated a Trophy to be awarded annually to the pilot who flies from "home" to Exeter in the fastest time in a Tutor; two members have already descended upon Exeter airport, trying to land inconspicuously in remote corners of the drome. John Pomeroy at present holds the record with a time of just under an hour. "
Dec 1960 Sailplane & Gliding
By 1967, (maybe earlier), the Kelsey Plate was being awarded for the best (longest) cross-country of the year.
In 2021, it was awarded to Ron Johns and Paul Medlock flying 711, for completing 309Kms on 26th May 2021, HHL - Bovingdon - Dulverton - Beaminster - Tiverton - NHL.
In 2020, it was awarded to John Burrow in JB (achieving his 3rd Diamond), completing 502Kms on 21st July 2020, NHL - Candover - Crewkerne - Chilbolton - NHL.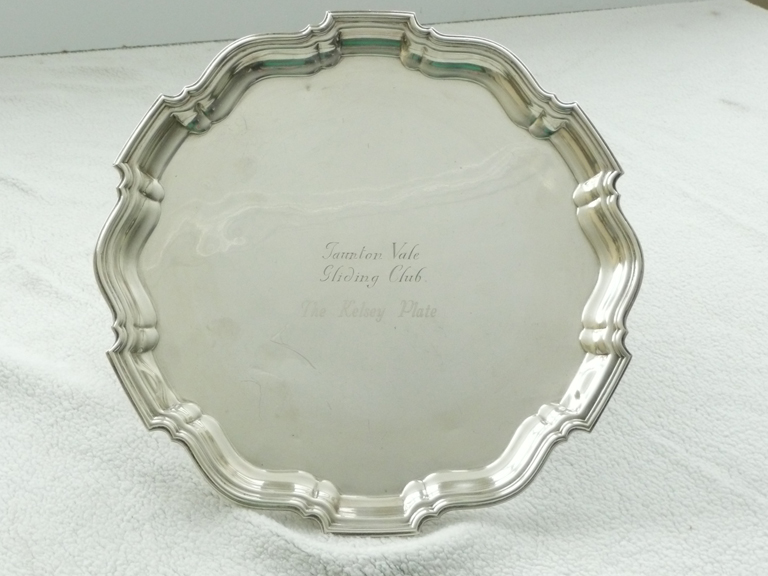 | | |
| --- | --- |
| Year | Awarded to: |
| 2021 | Ron Johns and Paul Medlock |
| 2020 | John Burrow |
| 2019 | Pete and Jill Harmer |
| 2018 | Ron Johns and Dan Johns |
| 2017 | Ron Johns and Phil Morrison |
| 2016 | Matt Wright |
| 2015 | Pete Startup and Matt Wright |
| 2014 | Ian Mitchell |
| 2013 | Liam Vile |
| 2012 | Steve Westlake |
| 2011 | John Burrow |
| 2010 | Matt Wright |
| 2009 | Dave Reilly |
| 2008 | DaveReilly |
| 2007 | Pete Harmer and Jill Harmer |
| 2006 | John Pursey |
| 2005 | John Pursey |
| 2004 | Ron Johns and Malcolm Chant |
| 2003 | DaveReilly |
| 2002 | JohnBugbee |
| 2001 | DaveReilly |
| 2000 | SimonMinson |
| 1999 | |
| 1998 | Ron Johns |
| 1997 | John Pursey |
| 1996 | Malcolm Chant |
| 1995 | John Pursey |
| 1994 | Ron Johns |
| 1993 | Dave Reilly |
| 1992 | Damian Le Roux |
| 1991 | Mike Fairclough |
| 1990 | Dave Reilly |
| 1989 | Dave Reilly |
| 1988 | Dave Reilly |
| 1987 | Dave Reilly |
| 1986 | Tim Gardner |
| 1985 | Dave Reilly |
| 1984 | Dave Reilly |
| 1983 | Dave Minson |
| 1982 | Eric Shore |
| 1981 | Eric Shore |
| 1980 | Dave Minson |
| 1979 | Julian Hine |
| 1978 | Tim Gardner |
| 1977 | Tim Gardner |
| 1976 | Steve Frank |
| 1975 | Robin Munday |
| 1974 | Reg Welch |
| 1973 | Reg Welch |
| 1972 | M Cook |
| 1971 | Brian Weare |
| 1970 | John Fielden, Val Fielden |
| 1969 | Owen Corsbie |
| 1968 | |
| 1967 | T G Brown |
| 1966 | |
| 1965 | Tim Gardner |
| 1964 | |
| 1963 | G Grant |
| 1962 | Brian Masters |
| 1961 | John Groves |
| 1960 | John Pomeroy |
| 1959 | |
| 1958 | |