Pete Startup recounts the tale of what seemed like an inspired plan at the time, to make the most of good forecasts for Nympsfield and Portmoak on consecutive days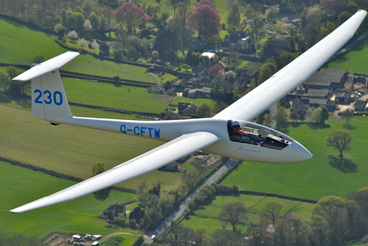 A Ridge Too Far For Me And My Big Mouth
So, it's the beginning of October and we're eagerly looking forward to our annual Devon and Somerset GC trip to Portmoak.
The plan was for myself and Matt Wright to leave Thursday or Friday and take a nice drive up leaving at 06:30 and arriving about 16:30, time to park up the trailers, say hello to Irene and Steve, get a good nights sleep and be ready for the flying to come.
The Friday looked like being a good day in Scotland(see later), so we decided to travel up on the Thursday to take advantage of the forecast. Just as our plans were firmed up, Nympsfield ridge maestro Trevor Stuart fired off e-mails indicating that it could be a good ridge day at Nympsfield on the Thursday. We've done the Nympsfield ridge run a few times now with Trevors guidance and knew it wasn't an opportunity to be missed - and as a bonus it was on the way.
So, a new plan was hatched. Leave North Hill at 06:30 as planned but stop at Nympsfield and fly the ridge(NYM-LCL-BAT-NYM) for a few hours, derig mid afternoon, cup of tea, then depart for Portmoak to arrive late evening and still be ready for epicness on Friday – what a plan!
The ridge rats assembled. 'Tree Top' Trevor taking the lead in his (ASW27,621) and followed in random order by DSGC boys John 'On Time' Burrow (Ventus Ct, KJW), Matt 'Think of the Footage' with his (ASW20, M5), and myself, Captain Slow (Discus, 230) along with the NYM regulars Greg 'Landout' O'Hagan (LS4, 264), 'Standup' Steve Eyles (LS4, 490), 'Farmer' Fred Hill (Nimbus 2) and Alan 'Offshore' Price (ASW28, AP).

The wind was blowing 270/25kts and thermals were plentiful – couldn't be better.
We all launched and got together in very loose formation on the Nympsfield West ridge. Trevor muttered the immortal command "OK, let's go" and we were off heading North towards Gloucester using thermals to start with before getting down on the ridge.
Although we had a call on the way from the Arcus with Phillip Walker and Tim Macfadyen aboard that the ridge wasn't working too well beyond Bishops Cleeve(BCL), we weren't that bothered as there was plenty of thermal activity to get us from there to LCL and back to where we could rejoin the ridge if necessary.

We all rounded LCL in reasonable order but then heading back South it all fell apart, especially for myself and Steve Eyles – we had a particularly difficult patch shortly after the turn as did Greg around Winchcombe. Significant showers had started to kick off out in the Severn valley and it quickly became every man for himself in the effort to stay airborne and get back to NYM!
So what had happened to change the fairly easy conditions into a struggle for survival so dramatically and in such a short time? One massive shower went South of us and overhead the Stroud/Nympsfield area and we were all pegged to various parts of the ridges or in thermals North of Cheltenham holding off while it passed. This one shower had the dual undesirable effects of dragging the wind off the ridge by at least 25 degrees and killing the thermals over a very wide area.
We were now battling directly into a 25kt headwind with no way to stay airborne and before very much longer wheels went down and it was raining gliders in the fields of South Gloucestershire!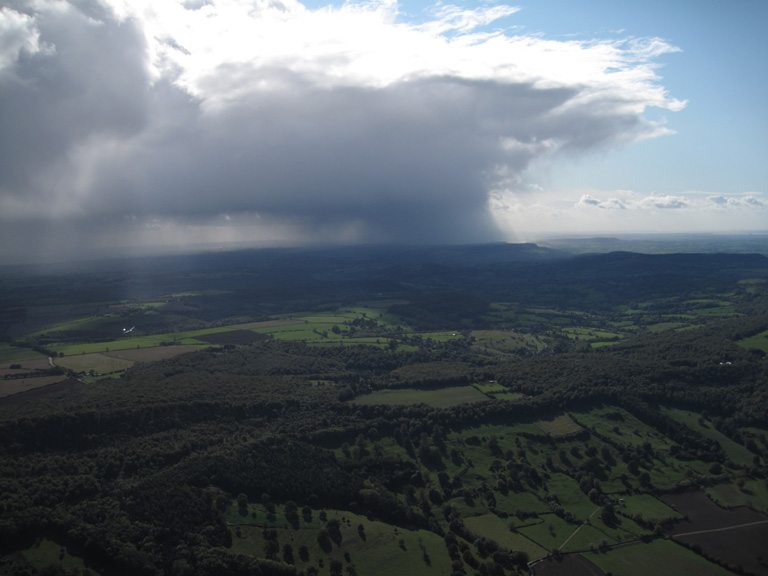 Two did made it back  - Alan Price who went quickly, beating the killer shower and even continued on to fly the ridge down to Bath which was working well as the backing wind was now straight on to that bit, and Matt who arrived back at the Nympsfield west ridge below the airfield and scratched back up the side of the hill enough to make a conventional circuit – character building stuff.
So, what to do now? Matt commandeered JB's van and started a tour of the area collecting the downed glider pilots - if only he knew the local area on the ground like he knows it from the air. With 6 pilots crammed in the van it was back to NYM to derig Matts glider and set off again in formation but this time with trailers in tow. It took a while – a long while, but we eventually all got retrieved with the last out of a field being myself at about 19:15, about 4 1/2 hours after hitting the dirt. Fortunately I was in a field close to the M5 - handy that.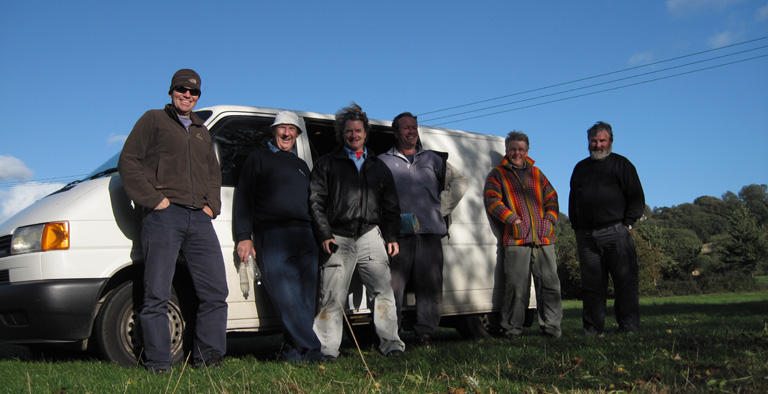 And Portmoak? The roads are much quieter at night aren't they? We made good time and very tired we pulled into the SGU at 02:30 after what was a very easy drive. We had to spend the remainder of the night in the cars due to having the wrong combination lock number for the clubhouse door - and I think Irene was surprised to see us at breakfast the next morning!
Was it worth it? Ask Matt who got his Diamond height right above the airfield that afternoon and we both got to do some cross country in one of the best wave skies I have ever seen at Portmoak.
Why the "me and my big mouth" in the title? As we were being briefed by Trevor in the morning I turned to Matt and said "this a great plan – the only thing that could screw it up is if one of us lands out!"
I shall keep it firmly shut next time but it was a great couple of days which we can look back on and laugh at now – and I hope it made for a good story of how you never know how it's going to turn out with gliding. That's part of what keeps us hooked on this fascinating sport!