Matt Wright - I blame Trevor Stuart! You know, the pundit from Nympsfield who has a habit posting epic flights on the BGA ladder and actually won it last year. It's all because of him!
Well I guess I should really start somewhere near the beginning. I took up gliding in late 2006, joining the Devon and Somerset Gliding Club with about 1800 hrs of bush flying in Zimbabwe and 6000hrs of heavy metal jet time in my logbook. From that first aero-tow I was hooked. I plodded through the training syllabus and was eventually allowed to go solo again after rediscovering that the rudder pedals weren't just footrests. Then was lucky enough to buy a share in a Standard Cirrus, which was to really open up a whole new world of adventure to me.
Primarily, it took me on my first out of gliding range cross country and it was here that I discovered what, to me, soaring is really all about. The challenge of going cross-country! You against the sky. Where you need all your skill in flying the glider, reading the weather and hopefully making the right decisions to complete your task. And if you do manage to get round, enjoying that rewarding sense of achievement.
Secondly, it made going on expeditions easy. On the first of my now twice yearly trips up to Portmoak in 2008, I was able to experience the rush of smoking the ridges of Bishop and Benarty on the shores of Loch Leven. This was seriously addictive flying, not to mention fantastic fun.
Looking at the BGA ladder I was intrigued by a band of Nympsfielders who were regularly posting cross-country flights, soaring along the edge of the Cotswold's. I had to go and try this for myself. How hard could it be?
So armed with my meager ridge skills I managed to convince Pete Startup, a fellow DSGC XC desperado , to drive up to Nympsfield on a cool March day in 2009 when the forecast was predicting perfect winds for their ridge task of Bath - Lower Clopton. We were cleared to fly by the duty instructor, rigged and towed out onto the back of the grid.
This is where Trevor comes in! He was on line and filling his ASW27 with water planning to do a long, fast, ridge task. In the ensuing banter we gleaned as many pointers from him as we could before he launched and we were off. Needless to say it wasn't long before we were stuck low on the ridge, Pete to the North among showers and me to the South, completely out of our comfort zones! I couldn't even see the so-called ridge down to Bath! As luck would have it the rain showers to the North put paid to Trevor's task and he picked up Pete on his way back to Nym and offered to take us on a lead-and-follow down to Bath. "Just stick close and keep you eyes peeled!" was the advice over the radio.
It was incredible, 70km, usually at heights where you would normally be on final to land and in close proximity to other gliders. This was real soaring adventure stuff. While having someone in the lead who was obviously comfortable being in this position, took the near panic I had felt earlier on my own and turned it into a massive cheesy grin.  Trevor had literally opened a previously invisible door to what I thought was possible in a glider! We have since been fortunate enough to fly that task 5 or six times under his expert guidance, including the full run NYM-BAT-LCL-NYM, getting accustomed to arriving very low into bowls that are obliged to work and just generally being comfortable low to the ground, working small hot spots. We've also been lucky enough to enjoy a perfect day on the Southdown ridge at Parham with a multi leg task between Butser Hill and Lewes.
So you see it is kind of Trevor's fault that I started looking at the South coast cliffs near Sidmouth on Google Earth. Thinking, if the wind was right, we could go from Ladram Bay, near Sidmouth, all the way to West Bay near Bridport and maybe even further. Spurred on by tales of bungee launching Swallows and K6's off the cliffs near Branscombe by some of our more senior members, all we needed was the weather to play ball and epicness awaited.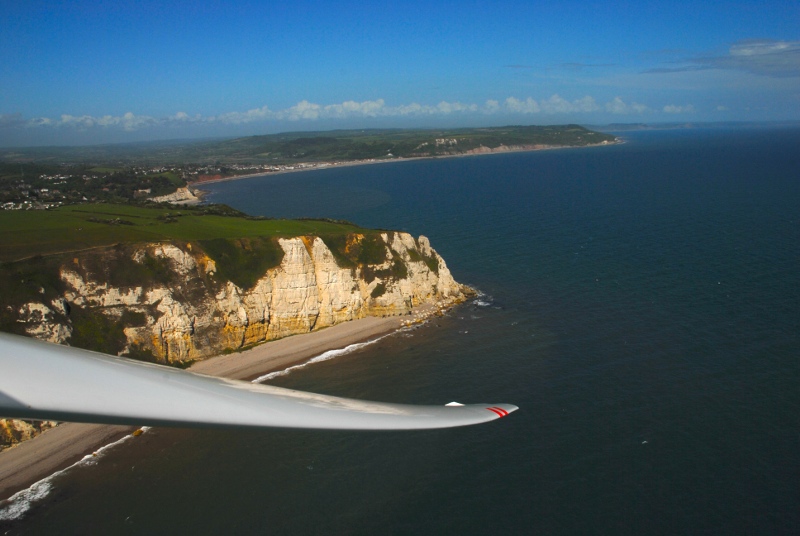 Sunday the 8th May was just such a day. The wind 20-25 knots a few degrees west of south and almost clear skies. The morning briefing was buzzing with the prospect of some real adventure soaring! So with glider trailers all hitched and parked at the gate, the clubs DG505 and one of the K21's were the first one's in the queue for the long aero-tow, followed by the ASH 25 and finally two ASW 20's. Waiting at the back was agony with the tug taking about 30 minutes per turn around and by the time I released from the tow the ASH and the K21 were climbing in the wave that had set up directly over the coast, and were easily on final glide for North Hill. Maybe we wouldn't be landing out after all.
I had stayed on tow until I could have made it to the cliffs in a half-brick and as it turned out I was so high that I carried on out to sea for a couple of km grinning like the Cheshire Cat before turning back to join the cliff proper. I had spotted the guys in the DG505 cruising along down at cliff top height and slotted in behind them for a hooligan run from Beer Head going west to Sidmouth. That part of the coast was working so well we could consistently maintain 100kts and we were being waved at by almost every walker we whizzed past. A good hour was spent thoroughly testing the negative flap settings of the ASW20. As I said, it is addictive, and I was over the moon in having found a local supplier.
My thoughts soon turned to trying to go further. So instead of the usual chandelle at Sidmouth, I jumped the gap and flew over to Ladram Bay caravan site, a good place for a start. From there to Beer Head the run was easy and fast. The 4km jump from there across to Seaton looked daunting and at about 1000' ASL, with Trevor's voice in my head saying "OK. Lets go", I aimed at the cliffs and went. Cutting the corner, took me out over the sea, and had me laughing out loud at the whole crazy scenario!
The cliffs to the east of Seaton were working well, but the coast further round towards Lyme Regis didn't look like it would be as reliable. I slowed up and was pleasantly surprised to find myself climbing pretty much all the way. From Lyme Regis past Golden Cap and Thorncombe Beacon to West Bay, the cliffs are well defined and were working very well allowing more messing around and playing with the cliff walkers. Finally, the cliffs east of West Bay looked very low and I spent quite a while on the dilemma of should I, shouldn't I.
A good friend of mine was fond of a TS Elliot quote which goes along the lines of, "Only those who will risk going too far can possibly find out just how far they can go" and besides, the golf course on top of the cliff looked landable, so I had to go.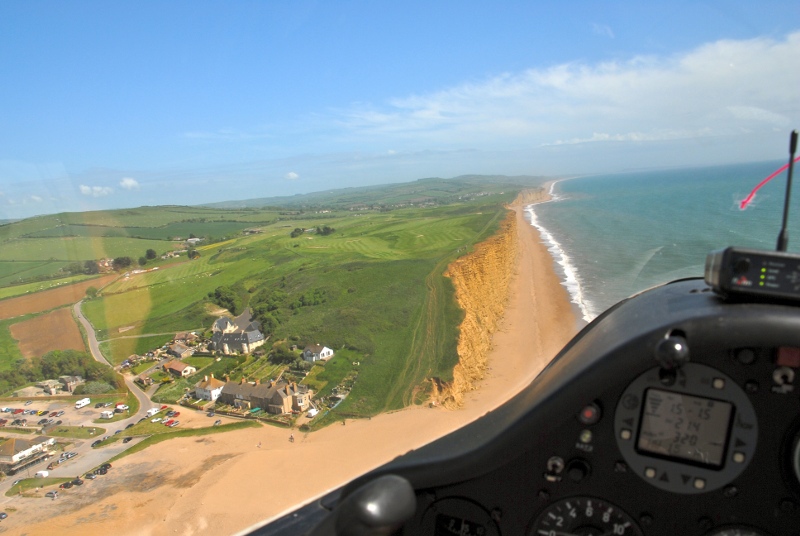 Being about 200 feet above the sea, in a glider and not even thinking of landing was pretty surreal. The golfers looked as amazed as I was and I found myself laughing out loud again. I turned around at Freshwater Holiday Camp and headed back westwards. Took a small top up at Golden Cap, climbing to 1500' ASL before continuing on. Then it was just a case of following the coast, steadily climbing to 2000' at Seaton to allow the jump into wind for Beer Head. And to finish one final dash along the cliffs to Ladram Bay for a 75km out and return task whose track was totally over the ocean. Epicness indeed, not many cross country points but about a billion on the cheesy grin factor!
I really have struggled to describe just how much fun I had on this flight, it's a bit like those adverts for Ireland on the TV, "Matt discovered soaring on the Sidmouth cliffs, on a Sunday afternoon in May 2011". It wasn't the first time it has been done but it was first time it was done by me and it felt like I was exploring a whole new world.
Which brings me back to Mr Stuart. There is no way I would have even contemplated this flight let alone attempted it without the experience and confidence I have gained from following 621 along the Nympsfield ridges. So when I say it's his fault what I really mean is… Thank you!
Matt Wright