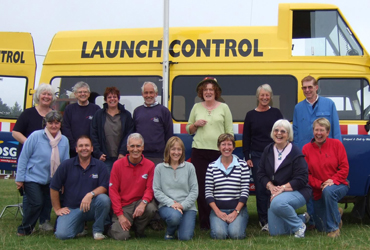 Group evenings are a brilliant way for a group of friends, work colleagues, social or youth group to get together for an evening in the summer and experience the thrill of flying a glider and getting a unique view of the Devon countryside. We will be taking bookings for 2019 in the New Year.
We ask for a minimum of 10 people wishing to fly in your group, but often friends and family also come along to watch and sometimes end up having a flight themselves! The evenings start at about 5.30-6.00pm and the flying carries on until we have finished flying your group or it gets too dark to fly!
We launch you using our winch, with a qualified instructor at the controls of the glider. Once in the air, you will have the opportunity to take control and experience flying a glider for yourself. You will be in the air for up to 15 minutes, but flight times can be shorter than this depending on the weather conditions.
We offer groups a discounted rate of £40 per person (Juniors £30) which includes one winch launch. Should time allow, you may take additional flights at only £10!
There are some restrictions on pilot height and weight. Young people under the age of 18 will require a parent or guardian's written consent. Download Temporary Membership form (pdf). Also there are a few medical conditions which may make it unsafe to fly.
If you would like further information, or you would like to book an evening please contact Fiona or Martin Bennett, (email: This email address is being protected from spambots. You need JavaScript enabled to view it.) our Group evening organisers. Please complete the online booking form or download the pdf booking form and email it to This email address is being protected from spambots. You need JavaScript enabled to view it..
Please check our events diary for available evenings, group evenings normally run from Easter to the end of August to make the most of the light evenings.
We can also fly groups on non-Club flying days by special arrangements, or maybe an afternoon/evening session complete with a barbeque, please discuss your requirements with Fiona or Martin.
Notice for visitors
Please see the airfield layout and safety notices.