Extracts from S&G December 1957 to December 1959
December 1957
August 11th was our official opening day
and in between heavy rain squalls most of the founder members had their first flights in the T-31. We were pleased to welcome Mr. and Mrs. Burns who brought along their Skylark IIIB. They flew out to the west ridge but were unable to contact the lift, nevertheless it is there.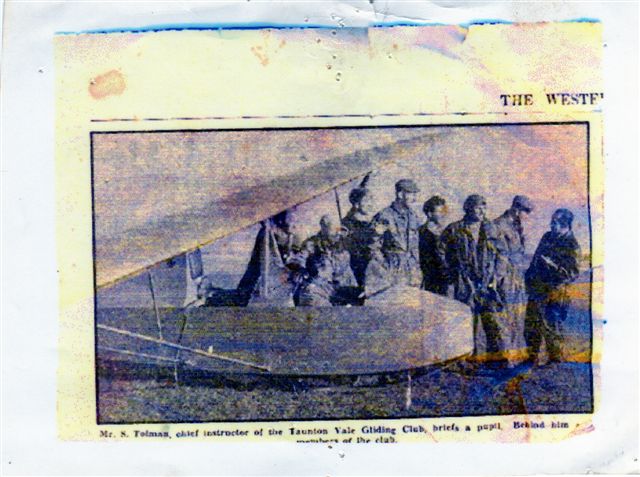 The club is situated at Dunkerswell airfield, approximately half-way between Taunton and Exeter and is 800 ft. a.s.l. The main ridge faces West and is about half a mile from the end of the long runway. There are two other minor slopes have given delayed sink whilst circuiting.
Membership is now 65 and we have done 210 launches during the first few weeks of operation. Mr. Hobkirk, our Chairman, is having his Tutor C. of A.'d and has kindly offered to let the club use it when airworthy. By this time we hope to have quite a number of members solo and able to take advantage of this Tutor flying. Mr. Sam Tolman, who has had considerable experience with the A.T.C. is our C.F.I.
The Ford V.8 launching car is now is now working perfectly, thanks to a few members who have spent uncountable hours working on it. With a little wind we are getting 1,200ft. launches when on the long runway, and incidentally, on a clear day one can see Tor Bay to the south-west and the Bristol Channel to the north. Unfortunately our solid cable is wearing out far too quickly and a boom is being fitted to the towcar, so the cable can be retrieved along the grass, we hope this will help solve the problem.
At present, owing to the smallness of our hangarage we have to rig and de-rig but eventually hope to use part of one of the large Ministry of  Supply hangars.
Now the club has at last got going, we hope to do some hard training during the winter months and look forward to next year, when we should be able to do a great deal of soaring from this most promising site.
P.E.B.
April 1958
Since our last report, there has been much activity in and around our buildings. The clubroom, which is part of an old MT section, is now ready for decoration and should prove very popular, a great change from the previous rather primitive conditions. As the buildings which we are using form a "U", we are considering using the three walls as a basis for a hangar; the big problem is – how to put up a cheap yet gale-proof roof?
We have just acquired two more V-8's in pretty good condition, so now feel that most of our launching worries are over.  Our present towcar will have its long-awaited overhaul.
Monty Dore recently completed his, and club's first solo. We have about six more pupils awaiting solo checks so we are waiting for less blustery conditions during the next few weeks.
During the summer we are running a number of ab initio courses for club members and anyone else who is interested. The dates will be published in the next report.
P.E.B.
June 1958
The Club held its first Annual General Meeting in Taunton on the 1st April, 1958. Mr. Hobkirk is kindly continuing as Chairman for another year with Sam Tolman as Vice-Chairman. Mr. White was re-elected as President and has generously presented the Club with a Trophy, to be awarded for the best annual pupil or the best flight of the year.
It was agreed that the Club finances were in order and the subscription was to remain unaltered, but some restraint was still       needed before greater expansion was envisaged!
At the end of March, Mr. Hobkirk test flew his Tutor which handled very well – the Club hope to buy it from him in the near future.
Morris Morey recently returned from a 1,200 miles marathon when he collected a Tutor from the Newcastle Club at Usworth. It also entailed collecting and returning a trailer from the Cornish Club and three almost sleepless nights.
We contacted our first thermals of the year on Sunday, the 21st March, when Sam Tolman soared the T-31 to 2,100 ft. on three occasions. The thermals were very rough and the temperature at that height was well below freezing, in fact one or two of our members were relieved to be back on "terra firma".
Within next couple of months we hope to have another Tutor flying and perhaps a syndicate "Swallow"?
P.E.B.
October 1958
Flying only one day out of seven, we haven't been very lucky with much soaring weather, but Monty Dore got the Club's first C with a 20-minute flight in July. Two of our instructors have been exploring the ridge in a Tutor, but so far no-one has been able to soar for more than 10 to 15 minutes. Later we hope to modify our launching method, and then we shall be able to reach the ridge more easily and see if five-hour duration legs are possible.
Recently Mr. Ducan, our local M.P., and the Mayor of Taunton, paid us a visit, when Mr. Ducan presented the "White Trophy" which is to be awarded to the best annual pupil or for the best flight of the year. Both gentlemen enjoyed their first glider flights and didn't mind the rough conditions.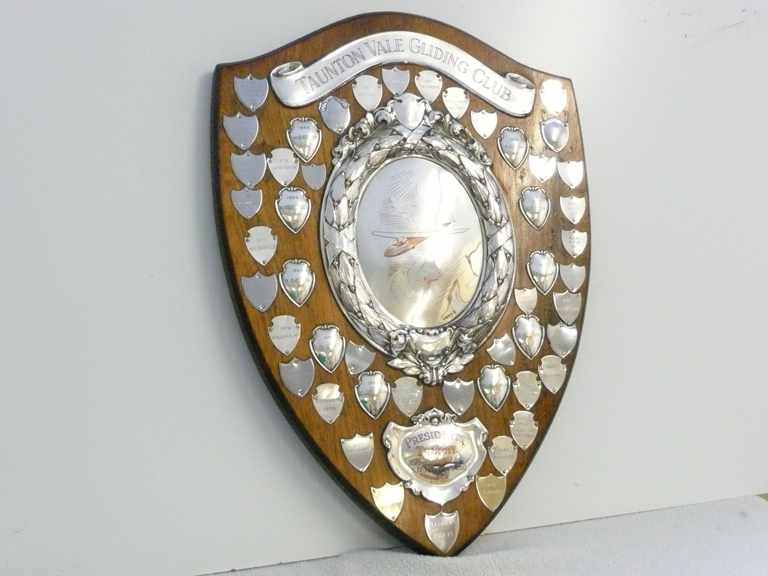 At last, and thanks in particular to Miss Kelsy and Mrs. Wannamaker, our Clubroom is now brightly decorated and comfortably furnished. Also congratulations to Miss Kelsey on being our first woman soloist. She did some power flying pre-war but is now a confirmed glider pilot.
Sam Tolman and Mr. Hobkirk ran our two Holiday Courses which, considering the awful weather, were quite successful. Four pupils went solo and many more went away hoping to return next year, and the general feeling was that a good time had been had by all.
Mr. and Mrs. Burns, from Lasham, plus their Skylark III, spent the first course week with us, the idea being a cross-country from S.W. to the East: something, which we understand, has not been done before from these parts. Again the weather was unkind, but, nevertheless, all is planned for an attempt at a future date.
P.E.B.
December 1958
Since our last report the weather has been even worse than before and little flying of note has taken place. Mr. White, our President, was married recently and we wish both him and his wife every happiness m the future.
We are hoping shortly to start occasional aero-towing which should be an interesting change, as most of our members have never sampled anything other than auto-tows. A prospective member's Auster is to have a hook fitted and Brian Masters from Lasham has agreed to come along and do the first tows for us.
The committee have been scheming up ways of raising money for the purchase of a sailplane, and if their efforts are successful we hope to have a Swallow or an Olympia, early next year. We should then be in a position to do our first cross-countries, and perhaps "the Hub", and possibly Dunstable will see an airborne invasion from the "wild" West!
P.E.B.
February 1959
By the end of the year, we should have completed 1,500 launches, with only two gliders, and weather permitting, hope to improve this total next year.  The local council inform us, that by September 1959, they have agreed to replace a road which was closed in 1939 and ran right across the airfield. At the moment, there are a number of alternative schemes, including the building of a new road right across the airfield, but we are pressing for the cheapest one involving the use of the Northern taxi-track. The taxi-track is in first class order and wider than most "A" classified roads. Should a new road be cut through the airfield our operation would be severely restricted and auto-towing hardly practical. In case the need should arise, we are looking out for an alternative site.
Aero-towing was a new feature at the club a few weeks ago and those who experienced their first tows were much impressed. Our C.F.I. and his pupil had an extremely rough ride when at about 900 ft and flying in the lee of our South-West slope, spent an anxious few minutes in some of the worst turbulence he has experienced.
Ann Welch's visit to the club at the end of November, had to be cancelled at short notice owing to foggy conditions but we hope she will be visiting us at an early date
Plans for our 1959 courses are well advanced and we may be having a few members of the C.C.P.R. on some of them. Given better weather conditions than those or 1958, the courses should prove popular and we look forward to the New Year with "high" hopes.
P.E.B.
June 1959
If Sunday 15th March was anything to go by, there should be some good soaring weather in store for us! Although nobody got their C's, a number of members experienced their first solo soaring.
On the way up to the Instructors' Conference, Sam Tolman and two other members called in at Lasham and did some soaring. Reg Chubb, one of our heavier members, who previously had thought he would never do any soaring in our T-31, was taken to over 4,000 feet by Sam Tolman in a T-21. A number of our members have now sampled the advantages of the T-21 and are keen to see a T-21 at Dunkeswell as soon as the Club can afford it.
We still have no news about the proposed road across the airfield, but both our local M.P. and the B.G.A. are protesting on our behalf and we are pressing for the perimeter track scheme to be used.
The White Trophy for the best pupil of 1958 is to be awarded to Monty Dore, who gained the Club's first B and C certificates.
P.E.B.
August 1959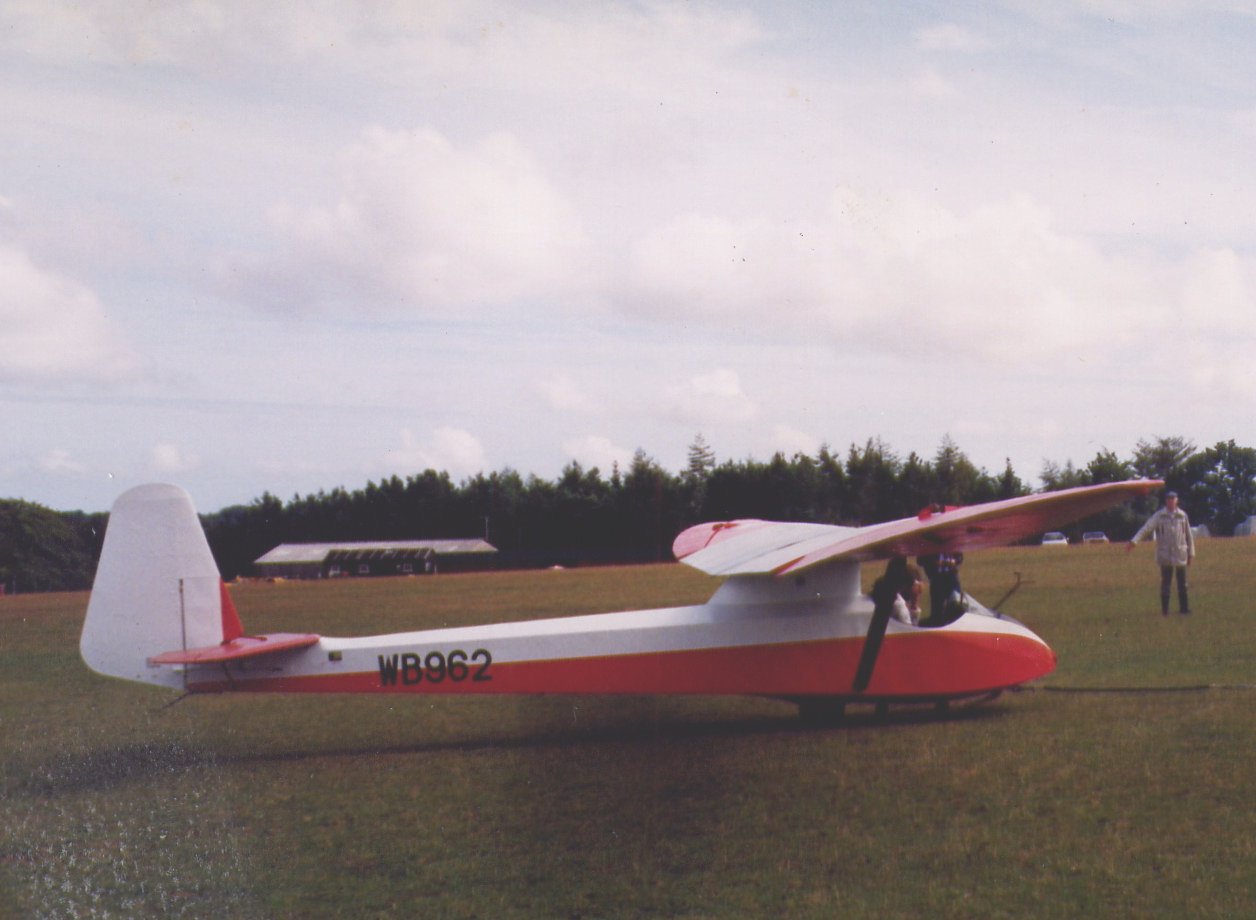 We are very pleased to have at last acquired a T-21 - ex Lasham. This must be about the only second-hand T-21 which has been on the market recently; we expect delivery by the second week in June. The addition of this two-seater should greatly assist our training programme and also give the chance of offering "some more advanced instruction. To enable us to get the T-21 and T-31 into our small hangarage without derigging, extensive alterations have been made, and now, with the aid of special trollies, they can just be squeezed into the building. Unfortunately the Tutors still have to be de-rigged. We are very much indebted to Reg Chubb and his willing helpers for the hard work they have put in, and the speed with which they completed the job.

During May and early June Miss Kelsey and Messrs. Knowlman, Fielden, Austen and Chubb gained their C's in the very rough thermals of the recent easterly winds. We consider this as a good start for 1959, as we gained only one C in 1958. A few weeks ago, during a violent thunderstorm, a Tutor's wings were extensively damaged by hail which was as large as marbles. It required all members present to hold the two gliders on the ground at the height of the storm.
The club's first syndicate is busy building a trailer for their Swallow which has been promised for delivery in August.
Press and I.T.V. were present when the Mayor and M.P. for Taunton visited us recently and from them we got valuable publicity. Our M.P., Mr. Du Cann, has given us active support in our fight against the building of a road across the airfield.
Already this year we have run two successful courses, with two more to come and our number of launches is increasing each month. With the additional two-seater, and given reasonable weather, we look forward to 1959 being our best yet.
P.E.B.