Extracts from S&G February 2000 to December 2010
February – March 1980
North Hill
A new shape has appeared over North Hill - Richard Fortescue has imported a JP15-36 from France.
We shall follow its progress with interest. Looking ahead, a home-build Duster is under construction by our retiring Technical Officer, lan Beckett, who deserves his well-earned rest. Our thanks to him for his hard work keeping the club fleet fit to fly Tony Thomas has agreed to replace him.
Evening lectures are here again to continue the education of tyro and pundit alike, and put the fancies of bar flying into proper perspective. The workshop has assumed its winter role — for C of A work, and trailer repair and maintenance.
Our AGM will shortly review 1979 and confirm our resolve to do better in 1980; flying, safety and general airfield operation always being capable of improvement.
Congratulations to D. Wolff, D. Webb and lan McLeod on going solo, and Tony Stockwell, from Lasham, who has now soloed with us; also to Bob Beard, Mike Pilditch, Derry Reaney and Ted Wilcox on completing Bronze C, and to Tony Thomas, Chris Chesney and Arthur Ball on their ½hrs.
Silver Cs have been completed by Colin Uncles (distance) and lan King (distance/height). lan also brought the Tarrhill cup back from Dorset, for a brief stay (see Dorset's notes in S&G, August 1979, pl93). Silver distances were also achieved by Gordon Peters, Les Hill, Louise Norton, Keith Nichols, Paul Trotter, Mike Pilditch, Derry Reaney and Brendan Sargeant. Brendan reached Lasham, gaining his Silver height on the way.
With our training lists full all we need now are the proverbial fine weekends to further the initiation of these trainees to the joys of our sport.
I.D.K.
April – May 1980
North Hill
Northerlies before Christmas produced gentle wave to intrigue Mike Dixon (Astir) and spanking north-westerlies since then have reminded us how well our west ridge can work - and how vicious the curl-over on approach can be in such conditions.
Lists for our two task weeks. May 31-June 7 and August 16-23, are filling well and once again we are hosting Competition Enterprise. There are also expeditions planned to other sites in the UK and abroad.
I.D.K.
June - July 1980
North Hill
The last two months have produced some good days, with reported lift on several occasions reaching a steady 8kt or more. On Easter Saturday wave was contacted between 2500-3250ft above the site beyond the west ridge, but proved elusive once those on the ground realised what was happening. Use of radio could have helped, but the wave flyers did not have them.
Congratulations to Eric Alston, Chris Cooper, John Parker and Jeremy Wilkinson on going solo.
Of those who visited Portmoak before Easter, Tim Parsons (K-6E) and Tim Gardner (DG-100) managed climbs to 12 000ft, but high aerotows precluded the chance of height claims.
The Transatlantic expedition by Gerry Leat, Jo Acreman and Alan Holland resulted in some Florida flying, both gliding and power, and a Silver distance for Alan.
I.D.K
Dunkeswell
Our Christmasdinner-dance was a great success and we hope to make it an annualevent. Weather conditions this winter have been fairly good, allowing us to fly most weekends. Soaring started in February.
Congratulations to Ray Griffiths and Val Carter on going solo, Dennis Gosling for his A and B certificate and Richard Harris on his second Bronze leg.
The club has bought its first single-seater, a SF-26, which had its first outing at Easter. Members were very enthusiastic about its performance, particularly Mark Spedding who gained a Bronze leg on his first flight in a single-seater.
Easter saw the first course of the year and brought with it four perfect days of soaring and wave. The rest of the season's courses are filling well.
Our clubhouse is now under full time management. We have cooked meals throughout the day and there have been dramatic improvements to the general facilities.
V.C.
August - September 1980
North Hill
We welcome one of our most regular cross-country pilots, Julian Hine, as an assistant instructor.
Tony Stockwell (K-6CR) pioneered the Silver rush with a downwind to Davidstow for his distance, and achieved his height with a climb to 7000ft. John Brown (B4), Derry Reaney (K-8) and Dave Millmore (Pirat) have all achieved Silver height, Derry to complete his Silver. John went on to complete his distance during task week and Dave his five hours. Several Bronze pilots just missed Silver distance during task week. Richard Carter and Colin Watt have gone solo.
Expeditions to Husbands Bosworth and the Long Mynd in mid-May were socially successful, but very strong winds seriously restricted flying. Our first task week, with only two flying days possible, has just finished.
l.D.K.
OBITUARY
Peter Cooper
Peter Cooper died on June 7 in a gliding accident. His name will not be remembered as one of the great names of British gliding, but to us at North Hill he was a shining example of what it was all about.
I remember his first solo and his first soaring flight; from that moment he was fired with enthusiasm that never waned during 14yrs with us. Whatever project the club undertook he was involved in. He had that ability to pass on to his pupils and friends his dedication to gliding. His last flight was to check the soaring conditions for others. In the clubroom or on the field he will be sadly missed and our deepest sympathy goes to his wife Kitty and family.
D. J. Minson, Chairman
Dunkeswell
1980 is showing every promise of being a superb season at Dunkeswell with soaring every weekend since Easter, including several cross-country flights. On April 20 our T-53 contacted wave and climbed to 6600ft, paving the way for Tony Eastelow (Foka 4) who carried on up to 11 800ft, this being our new club maximum height record.
We have bought a new retrieve vehicle to replace our well loved but antiquated pick-up van and are discussing the viability of building either a winch or reverse pulley system.
Members visiting Portmoak for the first time this May were impressed with the site and the hospitality shown them by the staff and members of the SGU. Due to easterlies throughout the week they returned without any notable flying achievements, but are already planning a further visit for next year.
Congratulations to our new solo pilots Ann Jewell, Hilary Perry, lan Davidson and Allan Vincent. lan Mitchell, Les Baskwill and Mark Spedding have gained Bronze legs. Jane Butland, Ann Jewell and Val Carter have their certificates. Richard Harris has his Bronze C and Silver height and Ron Perry has just completed his PPL.
We are all looking forward to our summer barbecue in June.
V.C.
October – November 1980
Dunkeswell
The inclement weather of June and July reduced our soaring activity considerably but failed to preclude Les Baskwill from gaining a second Bronze leg and Ray Busutill from completing his Bronze C. So far our courses have slotted into the few good weeks, providing opportunity for Roy Boddy and Ken Bunyan to re-solo after a two-year lapse. John Street and Andy Rigsby have also gone solo. Our weekend mini courses have also been successful.
We have enjoyed the company of many visitors to the site - lan Whitmore achieved his Silver distance whilst with us. Mike Fairclough has made several lengthy cross-country flights, the latest, however, having been curtailed 15km short of a Diamond goal by the inevitable sea breeze front. We have had an increase in usable wave which we hope may be exploited further in the future.
There are plans for another expedition to Portmoak and we are looking forward to our end of season party in October.
B.H.F.
.
December 1980 – January 1981
Dunkeswell
Our impromptu barbeque and "end of season" party were tremendously successful and we now look forward to a slide show and Christmas party.
Annual statistics reveal an increase over 1979 figures in launches, soaring and cross-country kilometres - the Indian summer is still producing up to 4kt thermals. Congratulations to Bruce Bint on his B certificate - the club's first - and to John Alien, Paul Cohen, Chris Heide, Hugh Gladden and Richard Mound on going solo.
B.F.
February - March 1981
North Hill
Our AGM reports indicate that 1980 was pretty healthy apart from the weather.
Chairman, David Minson, (Skylark 4) is Club Ladder leader after several worthy Gold distance attempts. Other good flights have been made by Eric Shore (Dart 15), Tim Gardner and Julian Hine (DG-100), Chris Miller, Gordon Peters and Reg Welch (Club Astir) and Dave Reilly (Skylark 4). Gordon collected a Silver height and Reg - for the last time - the inter-club pot from Tarrant.
Bar management has changed and also the flying. CFI, Mike Fitzgerald, has stepped down for personal reasons. We are sad about this but thank him for all his hard work in a most exacting task. Terry Jenvey is his successor.
The club's Dart 15 has been sold at last, to an on-site syndicate. The proceeds and a Sports Council Grant (awaiting confirmation) have boosted consideration of a two-seater replacement.
Tony Thomas and Arthur Ball have completed their Bronze, Arthur having graduated from the wartime non-soaring types. Quentin Browell, Bob Metcalfe, David Palmer and Ron Smith have soloed, and some enterprising ab-initios organised their own course in late October to build up experience. Wave on November 1 stayed for several hours and was contacted both from winch launches and from the south ridge.
l.D.K.
April - May 1981
North Hill
When we have been able to fly our ab-initios have been the main beneficiaries, but some days have brought interesting ridge and wave soaring. In mid-January, Simon Minson (Skylark 4) and Peter Clements (Dart 15) worked northerly wave over Wellington to 5500ft.
Congratulations to Duncan Babbington on completing his Bronze C. The New Year has brought syndicate changes; in particular, the Oly 463, Skylark 4 and a Dart 15 will have new pilots this season.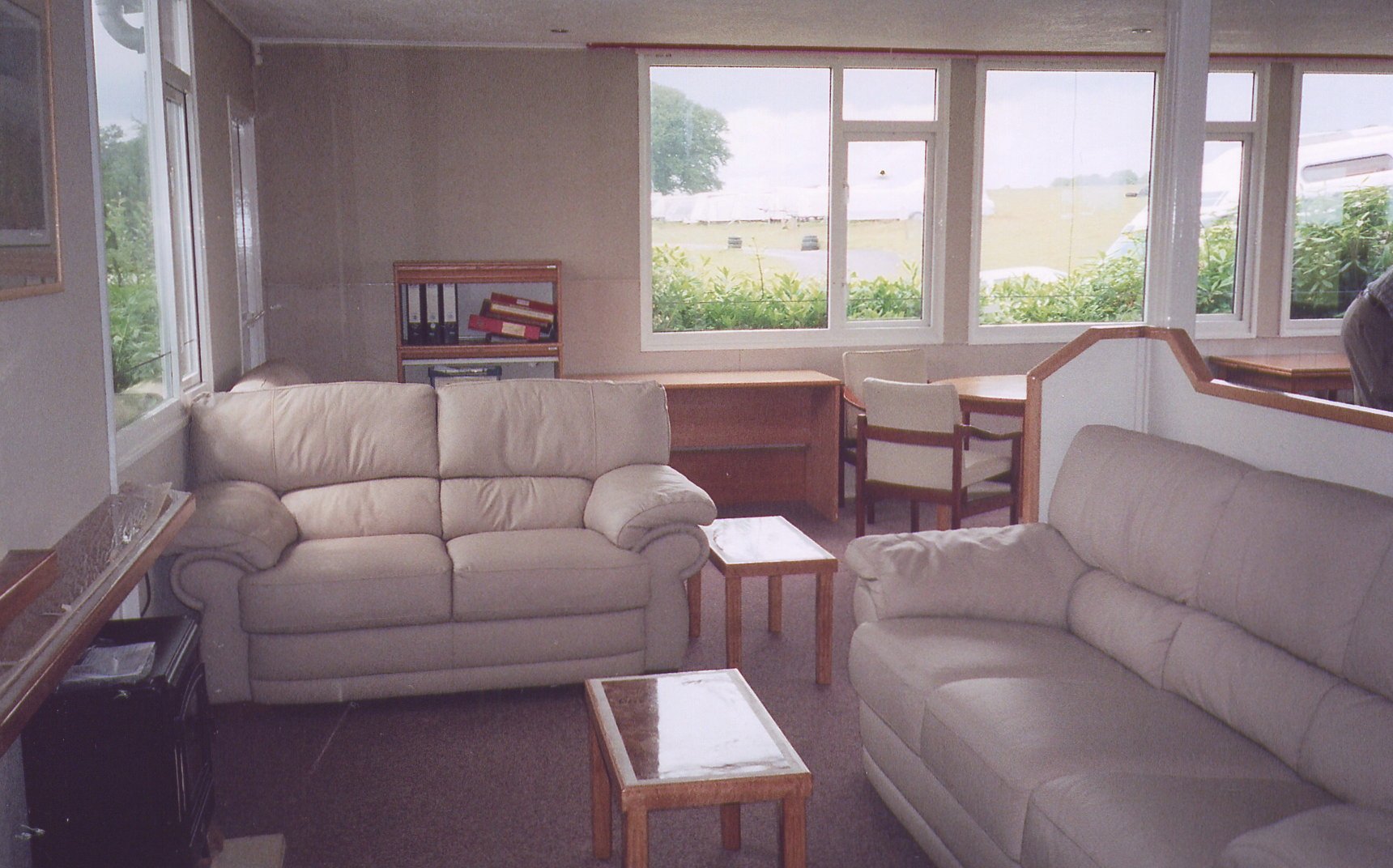 Our clubhouse is now brighter, thanks to the hard work of Jill Groves, Barry Salter, Chris Slade and others; Sandy Harrup has organised and done most of the painting of our launch point "Bubble", and Tony Thomas has kept the workshop in order, in spite of all the repair and C of A work there.
We are holding five summer courses with task weeks starting on June 1 and August 17.
I.D.K.
June - July 1981
North Hill
A farmer has agreed to the use of several fields for field landing practice. As they are some distance from the site we shall benefit from road and aerotow retrieves to keep our wits in trim.
Some members have just returned from Portmoak with indifferent flying results, except for Joe Watt (K-8) and son Colin (K-6) who kept each other company on their five hours. Colin subsequently completed his Bronze C.
After earlier disappointments with the Sports Council, our grant came through and we now have a K-13 with Finnish registrations.
Our first task week starts on June 1 with places available on the second task starting on August 17. A sixth course week has been fitted in for early August to cope with demand.
I.D.K.
Dunkeswell
Our two-seaters, resplendent in their new spring livery were put to good use by Alan George, who went solo, and Brue Bint, who found the first spring thermal. Congratulations to Les Baskwell on completing Bronze C.
Weekend courses are in progress and the holiday courses are well booked.
Changes in clubhouse management have, sadly, included the departure of Don Wilson and Richard Brooks whose hard work and tremendous service on the catering front have been greatly appreciated.
C.B.
August - September 1981
North Hill
Awful memories of recent months include the late April blizzard when a member abandoned his car two miles from the site and trudged through knee-deep and deeper drifts to do his Bronze paper (successfully).
On April 23 Tim Gardner (DG-100) flew an 80km 0/R and narrowly missed top place in the task week when Chris Dobbs (K-6) pulled handicap on him. Only one task was flown, the last day.
A second Skylark 4 syndicate was well launched with Frank Bell flying to Exmouth and return at 5500ft in wave on May 31. The Pirat syndicate enjoyed a visit to Sutton Bank.
Les Hill has completed his instructors' course, and John Christian has his A certificate. Our thanks to Tony Thomas for his hard work as technical officer - Dave Reilly is taking over. Our thanks also to all responsible for acquiring our K-13.
I.D.K.
October - November 1981
North Hill
Mark Crompton (Dart 15) has gained Silver height; so did Duncan Babbington but with the galling realisation that his barograph was not switched on. Chris Dobbs (K-6) flew to Davidstow for Silver distance. Colin Watt (K-6) flew 68km to Wincanton, but was defeated by the 1% rule.
Roy Thompson, Roger Palmer and Colin Lord have soloed; Colin is polishing up his old B badge earned with the ATC. Lan McLeod, Ron Smith, Derek Webb and Dick Wolff have their Bronze Cs.
Tim Gardner (DG-100) and David Minson (Skylark 4) are both treading the cross-country trail regularly. Steve Frank (Skylark 4) has left us temporarily for the north of Scotland low flying area, where he will be flying peregrine falcons instead.
Sadly, inflation has hit our flying charges; after two years without change, winch launches are now 25% dearer at just over the £1, and aerotows and soaring time are also up; so is the launch rate, for the time being. Our summer courses are well attended with many familiar faces returning yet again.
l.D.K.
Dunkeswell
Mike Fairclough ventured to the USA to gain his Diamond distance and Diamond goal. Chris Heide has completed two Bronze legs and Harvey Wallace-Williams, Gareth Jones, Mark Scott and Chris Beard have gone solo.
We are all now taking advantage of the belated soaring weather to at last enjoy some lengthy flights and cross-countries.
Among our recent visitors, we were delighted to welcome Don and Norah Johnson who let us fly their Ogar motor glider.
B.H.F.
December 1981 – January 1982
North Hill
Although we only had three competition days, our August task week was enjoyable, ending with a fantastic party. There was a large Woodspring contingent with their Skylark 4 coming third. The overall winners were Chris Dobbs and lan King (K-6CR) with Julian Hine (DG-100) second.
Duncan Babington (K-8) has Silver distance and Ted Wilcox (Skylark 4) Silver height and duration, Duncan claiming his duration in late September. Eric Shore completed his Gold C with a Gold distance, Diamond goal flight at ZeII-am-See.
Julian Hine and Tim Parsons are full Cats, Julian becoming deputy CFI. His membership secretary job has gone to Reg Welch.
I.D.K.
Dunkeswell Airfield
A report by the secretary to an extraordinary general meeting in September brought news of an impending change of ownership of the airfield. Our future maybe affected and the well-attended meeting was asked for its support for the coming year, although there is no guarantee of security for the club. The vote to continue was unanimous.
Unfortunately inflation has caught up with us and we have had to revise our subscription rates.
We held an enjoyable barbecue this summer, are installing a reverse-pulley system in search of better launches and had a special day for the disabled which went very well. Our congratulations on going solo to Alan Garland, Jonathan Ward, Les Curwen, Hugh Sumner and Vic Marshall and for re-soloing to Mike Sampson, Dave Morhen and Len and Steve Charlton.
R.P.G.
April – May 1982
North Hill
Surprisingly some days have seen a good number of gliders out for an airing. Working parties have been concreting the hangar floor and extending the water supply. There are rumours of schemes for hangar doors and the club Capstan for sale.
The dinner-dance and post AGM social were well attended. Sadly, at the AGM, our president, Francis Bustard, retired and was thanked by the chairman, David Minson, for all his hard work and support through the years. Francis joins our distinguished band of vice-presidents. Eric Shore was unanimously voted as successor to the presidency.
Annual trophies awarded were: best progress, Duncan Babington; best gain of height, Steve Frank; club ladder leader, Chris Dobbs; best cross-country, Eric Shore; task week winners, Chris Dobbs and lan King, and the maiden winner of the Wily Old Bird trophy was Eric Shore for his Gold distance and Diamond goal behind our backs in Austria.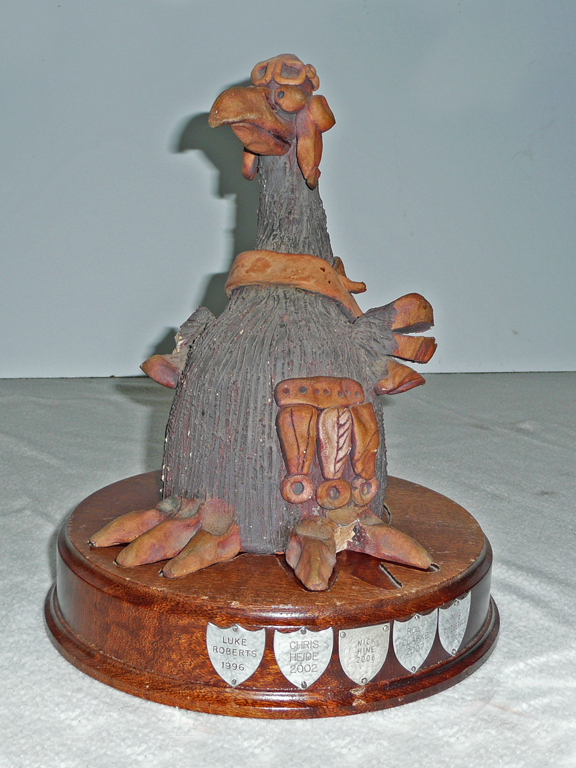 The trophy, skilfully executed in clay depicting a WOB, was presented by Ken Andrews for the perpetrator of the most meritorious event achieved through guile, skill and/or low cunning.
Diary notes: task weeks, May 31-June 5 and August 9-14 with six training course weeks scattered through June to September. Write or phone 040484386 (weekends). We are again hosting Enterprise, June 26-July 3. Come west and share our sky awhile.
I.D.K.
Dunkeswell
The weather has severely hampered us and we have only had two flying days since Christmas. However, we look forward to the new season and to seeing instructors Mike and Barbara Fairclough flying their new PIK.
Our reverse pulley system is proving itself a sound investment with greatly improved launch height - the record is 1800ft. Many thanks to lan Davison for modifying the cable drum and to John Street for overseeing the whole operation.
We are running full-time courses from May and anyone interested should contact the secretary, Dunkeswell GC, "Meadowcroft, Christow, Exeter EX6 7NQ.
R.P.G.
June - July 1982
North Hill
After countless launches, many thousand flying hours, a change of name and acquisition of desirable and secluded freehold premises with semi-detached ridges, the erstwhile Taunton Vale GC at last completed its Silver. Congratulations and gratitude to all those, past and present, whose boundless efforts, enthusiasm and enterprise have created the North Hill we love. Best wishes and hopes for eventual achievement of Gold and Diamonds. Long may we soar silent and free in southwestern skies.
Although relatively late on the gliding scene, the club has numbered some pioneers of gliding in the south-west as members. A celebration dinner is planned in the autumn - interested past members please contact Andrew Blackburn, "Eastlands", Lyddons Mead, Chard, Somerset, enclosing a sae.
The club fleet now consists of two K-13s, K-SB, K-6CR, and a Club Astir with the Capstan having been sold after 33,309 launches.
After a patchy start to the season, we had a 4000ft cloudbase on Easter Sunday. In early April we welcomed officials and CFIs of various SW clubs for an airing of queries and problems with BGA personnel.
Congratulations to Gordon Peters, Tony Stockwell, Simon Minson and Chris Dobbs on joining our instructors, Chris celebrating with a duration.
I.D.K.
August - September 1982
North Hill
The fine weather since Easter has stirred us into activity: Chris Dobbs and Ted Wilcox completed their Silver Cs, Chris with a height and Ted with a distance leg. Ted returned after phoning to find the vast empty field near Bodmin had sprouted cows who had inflicted minor damage to his Skylark.
Ron Smith and John Boley also have distance legs with a possible height for John; there are Silver heights for Colin Watt and Derek Webb and Dave Andrews and Dave Roberts have gone solo.
We had a successful May task week with tasks flown on four days by eight gliders ranging from a DG-100 to the L-Spatz. Our best wishes for an early return to Albert Bourn who had a heavy field landing, damaging his L-Spatz and his back, after the best flight of the day.
Our Silver Jubilee dinner is at the end of October (see the last issue, p135, for details).
I.D.K.
October - November 1982
North Hill
Eric Shore and Richard Fortescue made their annual visit to ZeII-am-See in May where Eric achieved 412 of his declared 500km. Congratulations to Denise Robins on going solo; to Chris Calvert and John Parker on their Bronze Cs (Chris flew Silver distance in the club K-6 three weeks later) and to Les Hill on completing his Silver C with a height leg at Portmoak, narrowly missing Gold height.
Gordon Peters and Duncan Babbington (Club Astir), Chris Dobbs and Simon Minson (Skylark 4), Dave Reilly (Std Libelle) and Terry Jenvey(Dart 15) competed in Enterprise at North Hill, a competition which seems to foster much goodwill in the movement.
Mendip GC held a club task week here during July and visitors from Mendip, Coventry and Dorset GCs are expected for our second taskweek.
I.D.K.
December 1982 – January 1983
North Hill
Crowning achievement of the season was Julian Hine's Gold distance. With family "trailing", he set out on holiday by air for Cambridge via Ely and landed his DG-100 at Marshalls. Later his partner, Tim Gardner, flew a 300km 0/R.
Chris Dobbs (Skylark 4) attempted an O/R to Lasham and Jo Acreman (K-6CR) flew Silver distance. John Parker and Derek Webb visited the Midland GC with their Oly 463 and both flew durations, John also getting Silver height.
Our second task week was an L-Spatz revenge! Mindful of his mishap in the first task week and helped by the handicap, Albert Bourne returned to win the week. There were four tasks and 17 gliders competing The enjoyable week finished with a splendid party
Sadly a field landing incident claimed a K-6E but the pilot was unhurt. The other K-6E was reported by the press as crash landing – how do we put field landings across to the general public?
Stocktaking is with us again. An odd year in retrospect; however we are solvent and are flying.
I.D.K.
April - May 1983
North Hill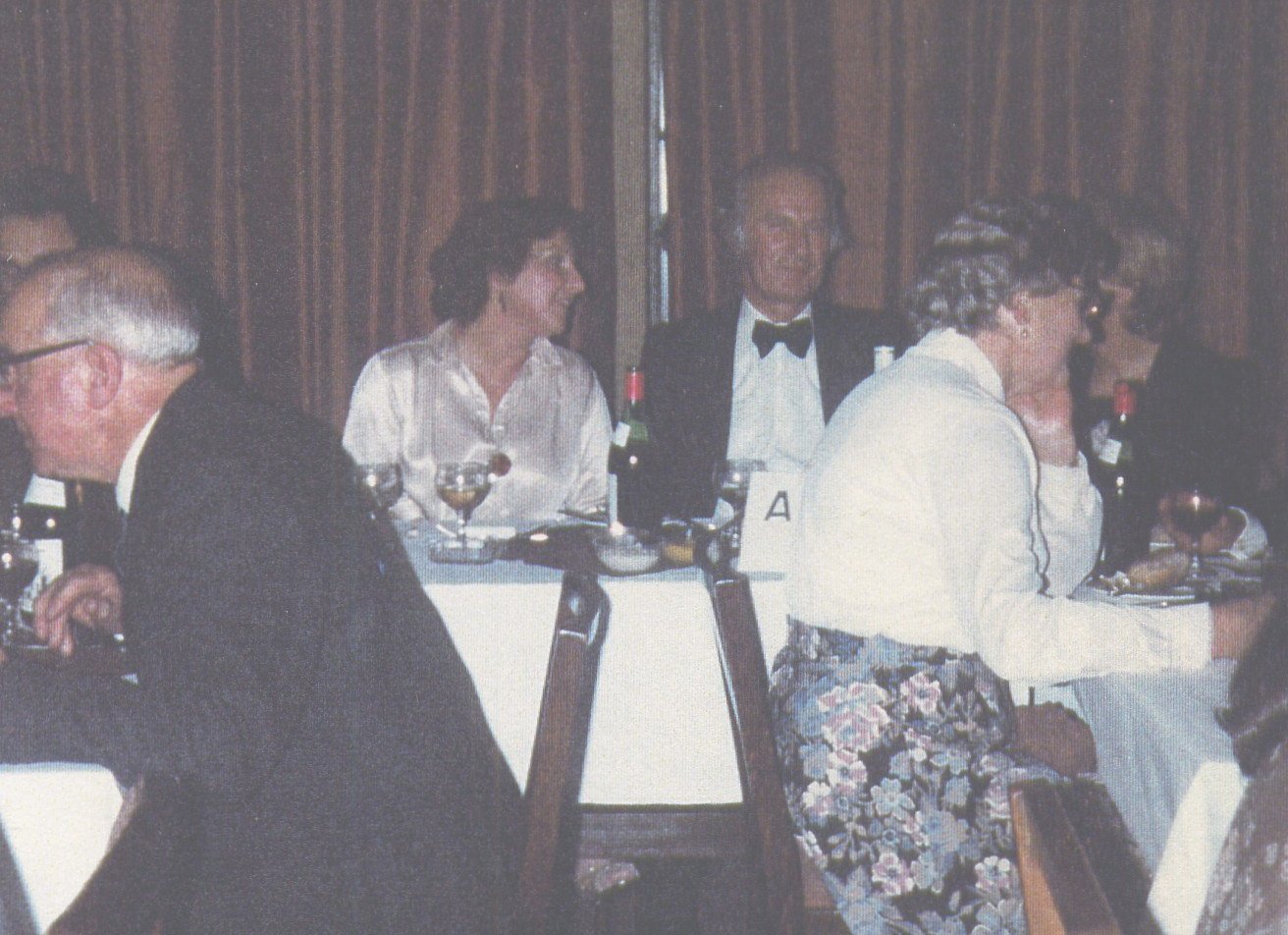 There were almost 100 members and guests at our 25th anniversary dinner in October with Justin and Gillian Wills and Bill and Yvonne Scull as guests of honour.
Eddie Bromwell, Tony Price and Mike Robins have gone solo, Jeremy Wilkinson has his Bronze C and John Boley and Dave Millmore their Silver Cs. Congratulations all.
With improved launches, flying hours and liquor consumption during 1982 up on 1981, the club is in a healthy financial state; thanks to our committee for careful guidance in difficult times.
The following were awarded trophies at our AGM: Dave Andrews (progress); Dave Reilly (gain of height); Eric Shore (best cross-country - Austria again); Tim Gardner and Albert Bourne (task week); Tim Gardner (club ladder) and Simon Minson and Chris Dobbs (best competition performance, which was at Enterprise). The "Wily old bird" was John Boley (and his K-6E).
David Minson, our chairman, has found a Mosquito to partner him in his furtherglide campaign.
The summer should attract temporary visitors with our two task weeks - June 6-11 and August 15-20 - and six training courses. Our telephone number is 040484-386 (weekends) and we'll tell you who to contact.
I.D.K.
Dunkeswell
The summer courses produced first solo's for Neil Robinson, John Cheeseman, Martin Bollen, Clive Harder, Hans Schuricht, Nick Lunn, Dave Martin and Chris Davison - the relatively few good soaring days were utilised to gain Bronze Cs for lan Mitchell, Ray Griffiths, Geoffery Darragh, Les Baskwill, lan Davison and Mike Sanson, Mike also climbing to Silver height in wave.
Richard Harris has proved an invaluable assistant instructor and John Street is joining our small team of instructors.
We have at last settled our tenancy problems and are looking forward to the new season and the start of the five day and weekend courses.
B.H.F.
August - September 1983
North Hill
Our club diary reflects the generally poor weather since Christmas - nothing of significance.
Ken Lopez and Geoff Finn have gone solo and Justin Wills flew his LS-4 home from an Easter visit when local conditions were very mediocre.
Our task week has just started and fortunately returned to service is one hard-worked and long-suffering K-13 after a launch failure. Even more fortunate is the PI who has thankfully recovered from back injuries.
A welcome return of "North Hill News", our occasional broadsheet, owes much to Gordon Peters and more to his staff of volunteer reporters, editors and printers. Also welcome was a visit by the LS-4 demonstrator.
Joining our long distance elite, as occasion permits, is Tom Zealley, BGA chairman, who, with his ASW-20, will provide good company for our pilots roaming DG-100, Mosquito and Libelle pilots.
I.D.K.
October - November 1983
North Hill
Congratulations to David Minson (Mosquito) on his Gold distance and Diamond goal O/R and to Tim Gardner (DG-100) who flew the same task that day.
The first task week in early June was a wan affair with three tasks and a total of only 2000km. Visitors, Walters (Skylark 4) and Bailey (Vega) from Usk came 1st and 3rd respectively and Dave Reilly/Don Jones (Libelle) and Albert Bourne (L-Spatz) retained club honours in 2nd and 4th places.
Congratulations to Jonathan Fletcher and Barry Gage on going solo and to Tony Stockwell on a duration to complete his Silver C. Our thanks to the Mendip GC for the loan of a K-4 during our busy course season and to those engineers who rescued the winch from a potentially serious metal fatigue failure at very short notice.
I.D.K.
December 1983 – January 1984
North Hill
Congratulations to Philip Whitehead and Steven Fitzgerald on going solo, Steven on his 16th birthday. He converted to the K-8 the next day and flew both Bronze legs a week later. Dave Roberts, Tony Price and Barry Gage also have both Bronze legs.
John Parker (Oly 463) completed his Silver C with a flight to Sturminster Newton while David Wolff's barograph failed on a Silver height.
One experienced pilot was set upon and beaten up by a stubble fire. It then threw him, thoroughly bruised and disorientated, into the nearest convenient cloud which extended rather murkily from West Somerset to mid Dorset. Eventually returning to clear air with the sea to his right, he landed in a desolate region - Exmoor.
The second task week was convivial with visitors from Mendips and Usk, three task days and creditable performances with a total of 4111km flown. Our Dave Reilly (Libelle) won with Phil Hogarth and Colin Watt (Skylark 4) 2nd for the visitors, Colin flying under his Mendip hat.
I.D.K.
April - May 1984
North Hill
There were good reports on our flying and finances at the AGM with a vote of thanks to Chris Slade for all his help over the years on the committee and as overseer of the flying accounts, with assistance in recent years from Jill Groves. We also thanked Terry Jenvey who retired as CFI. His deputy, Julian Hine, has taken over.
Trophies were awarded as follows: Norman Whyte shield (best progress), Eddie Bromwell; Francis Bustard trophy (gain of height), Steve Frank; Kelsey plate (best cross-country) and "Wily Old Bird" (for enterprise) David Minson and the Brian Masters trophy (winning task week) and Club Ladder cup, David Reilly.
Steve Robson, Martyn Fisher, Fred Clarke and Alan Peel have gone solo and Tim Gardner (DG-100) gained Diamond height at Portmoak during our October expedition, topping 20,000ft with other members up to 15,000ft. Visits have also been made to Talgarth and the Long Mynd.
There is concern at the decline in membership, particularly for training, and Gordon Peters, as publicity officer, is co-ordinating attempts to attract new members. Norman Whyte, founder member and president for many years, has written an interesting club history.
With Enterprise at North Hill, six training courses, a cross-country week and two task weeks (June 4-9 and August 6-11) we anticipate a busy season.
I.D.K.
October - November 1984
North Hill
Ian Beckett's immaculate home-built 'Duster' – a five year labour of love - appeared on site in late April, exciting great interest. He reports well of its flight characteristics and has achieved some respectable flights in it, both at home and on a trip to Vinon and Fayence.
We have a special challenge this year for two-seater flights. Julian and Martin Hine set the standard in mid-April with 160km to Salisbury and back to Sherborne. The challenge list is lengthening
We have had a good crop of certificate claims this year with: solo and A - S.Desormes, M.Rutty, J.Pursey, D.Firth, T.Flaxman, R.Wilson and R.Hadley; Bronze C - D.Andrews, S.Fitzgerald, A.Price, P.Talbot and Silver distance – D.Andrews, I.Mitchell and C.Watt. Colin Watt took advantage of a Mendip GC expedition to Sutton Bank to gain Gold height. John Burrow, Simon Minson and Chris Miller have their full Cat ratings and Joe Acreman and Ron Smith have assistant ratings.
A successful task week in early June had a variety of short and long tasks. Dave Reilly (Libelle) won, with that L-Spatz and Albert Bourne in close contention. Ron Perry (Dart 15) from Mendip Club came 3rd, taking a 300km goal O/R flight to Redruth, which we think is the first in that direction from North Hill.
Then came competition Enterprise, with six members/5 gliders participating. With eight flying days and superb weather, we believe that everyone enjoyed themselves to the full. (See report in this issue). Chris Dobbs (Jantar 1), Simon Minson (Club Astir) and Dave Reilly completed Diamond goal flights during the week, Eric Shore (Dart 15) and Tim Gardner (DG-100) put up good performances and Dave Reilly was 4th overall. Douglas King put in more hours than most flying John Fielden's BBC Micro, developing a scoring programme for the Competition with considerable success.
From Canada, we have news of Morven Patterson, who must be our most exalted female member having flown a 1-23 over the Rockies to 22,000ft plus.
I.D.K.
December 1984 – January 1985
North Hill
A gallant band turned out on September 11 to allow Jonathan Smith to go solo on his 16th birthday, briefed by his father Ron. In less than perfect conditions, Jonathan then took two further launches, each over 30min. No doubt Ron and his Jantar syndicate will be under siege ere long. Similarly with Stephen Fitzgerald who gained Silver height this season and has amassed an excessive number of hours in the parental B-4 syndicate.
Harry Houghton, George White and Dave Brummit have also gone solo and there have been a flow of conversions. A K-13 has been damaged but we hired the Albatross GC's Blanik and now the Dunkeswell GC YS-53 has arrived.
We have a Sports Council Grant for a tug hangar; have a resident Motor Falke syndicate from Westlands and there are plans to replace the winch. Sadly, Andrew Blackburn is retiring after nine hard-working years and we give him our thanks for his great contribution.
The August task week was a minor success for producing interesting flying in often poor conditions, lan King (K-SCR) managed 289km and lan Mitchell (Club Astir) completed his Silver C with a duration. Dave Reilly (again) won in a K-13 with a supporting cast of Sandra Harrup, Stephen Fitzgerald and Phil Whitehead gaining cross-country experience. Runners-up were Mike Fitzgerald (B-4, Metal), Don Jones (Libelle, Glass) and lan King (K-6, Wood). Visitors from Mendip and Cornish GCs pressed us hard and enjoyed the week.
On September 30, our CFI, Julian Hine, greeted Barbara Fairclough, CFI, of Dunkeswell GC, who flew in with the YS-53 on the last launch from Dunkeswell. Some of their members will now be using our circuit instead of avoiding it.
I.D.K.
Dunkeswell
We have had a very successful summer season with all courses well attended. Congratulations on going solo to Tony Davies, Chris Fitton and Mark Harris, Mark also achieving a Bronze leg along with Dave Martin. Well done Neville Churcher on re-soloing and Chris Davison on completing his Bronze C.
Flying has been greatly enhanced by the non-stop aerotowing of Mike and Barbara Fairclough's new Super Cub serving as club tug.
The end of season barbecue was a success but, unfortunately, rather dampened by the news that due to operational difficulties on the airfield, the club would cease operations permanently at the end of September. So, regrettably, Dunkeswell GC is no more, but our thanks to the Devon and Somerset GC for accepting our ex-members into their club.
Finally all our thanks to Barbara and Mike for all their efforts over the ten years of the club's existence. We really appreciated it.
C.J.H.
April - May 1985
At the December AGM confidence in the committee was expressed by re-election of all retiring members, after their decision to invest the equivalent of a K-21 in a new winch had been discussed and approved. This will give us an up-to-date version of our old winch, designed over 20 years ago by David Clayton and now modified by him to cope with the anticipated demands of the coming 20 years. Mike Robins replaces Andrew Blackburn as secretary.
Pots were awarded to Dave Reilly and a few others! He won the trophies for the best cross-country, best place in a BGA competition, for winning the task week and the club ladder and the two-seater challenge. Dave Brummitt gained the shield for best progress; Tim Gardner the best height gain award and lan Beckett "the Wily Old Bird" for his Duster.
Les (R. G.) Hill has soloed and Peter Moverley (K-6E) achieved his five hours at Portmoak in October. Tony Stockwell has a full instructor rating, giving us for the first time in years a majority of full Cats.
K-13 prangery has been all too frequent and as we need an adequate two-seater fleet with an influx of new members, a third two-seater could soon appear.
We have two task weeks (June 3-8 and August 12-17) and six course weeks which are filling well. Aerotow operations should be improved when the new tug hangar is commissioned.
I.D.K.
June - July 1985
A good group of volunteers ensured we were ready for the season with our particular thanks to Dave Reilly for C of A work and repairs, especially for a splendid re-cover and respray for the K-6, and to Eddie Bromwell for organising the new workshop doors.
To keep abreast of our increase in launches, soaring and book-keeping, Terry Jenvey has been doing much night-flying to computerise the accounts.
I.D.K.
August - September 1985
Dave Reilly (Libelle) gained 10,800ft to complete his Gold C at Talgarth. Simon Minson and lan Mitchell soared their Eagle through 12,000ft, returning badgeless but ecstatic. Height of a different kind is a 2200ft K-13 winch launch recently reported.
In late May John Brown (B-4) completed his Silver C with a duration and Peter Moverly (K-6E), with distance and height. Barry Gage (Oly 463) also has Silver distance and height and Phil Whitehead his Bronze C. Bill Hatch, Bob Chant and Trevor Senatore have soloed - Trevor pilots the Exeter-Speke night mail.
An Extra-Ordinary General Meeting was called on May 4 to increase the club's borrowing powers, following the sudden realisation that land on the north of the site was for sale. We immediately started negotiating for eight acres to widen the east end of the site for increased safety margins when operating at that end. That lovely beech hedge - and its associated turbulence - will go and its replacement will be ours to grow to our requirements, not our neighbour's. Hopefully we will be able to secure this site extension in time to complete essential works for the 1986 season.
The Husky is back after its C of A, and an expensive fuselage recover and respray.
"North Hill News" has reappeared in style under the editorship of Phil Talbot, who has taken over from Gordon Peters. Thanks Gordon - unsung hero of the Spreadsheets!'
I.D.K.
October - November 1985
Our first task week in early June was a friendly affair with visitors from Usk and Weston-Super-Mare. The weather was warm, thick and scrappy giving only two task days with 988km recorded.
The "weekends" were June 15/16 and July 6/7 with flights of over 300km by Tim Gardner (DG-100), John Burrow (Dart 15), David and Simon Minson (Mosquito) and Dave Reilly (Libelle). On July 7 Tim claimed Diamond distance and John Diamond goal. Both were superb flights but their TP photographs were unsatisfactory. Badge hunters take heed!
The same weekends saw good flights from Mike Fitzgerald (B-4) with 195km; the Eagle, flown by John Burrow/lan Mitchell over 230km and by Nick Jones/lan Mitchell to Lasham; and Silver legs for the following - height and duration for Alan Peel (B-4); height for Mike Hamilton (Oly 463), height for Stephen Fitzgerald (B-4) to complete his Silver C and height and distance for Dick Wolff (K-6E). Dick completed his Silver C later with 5hrs at the Long Mynd. J. Smith has completed his Bronze C and C. Tharme has soloed.
Recent expeditions have been to the Long Mynd and Sutton Bank. Gordon Peters and Tony Price (Jantar) had a mishap at Competition Enterprise, damaging their nose in an argument with a sturdy Yorkshire oak. Ingenious repairs including a mould taken from a conveniently available Jantar had them flying again without missing a task.
Courses and air experience flying have been helped by the use of the YS-53 and the Fairclough's Super Cub has been a useful back-up tug. Supacat is on site and winch-driver conversion courses are under way.
Our best wishes to Albert Bourne and Mike Robbins who have suffered serious illness this year. We hope they will soon be able to convalesce in the cockpit.
I.D.K.
February - March 1986
Sharon Binns, Guy Adams and Dave Farmer have gone solo. Ron Jones had his Bronze C and imported a K-18 to the site. Several members are working for their PPLs and the syndicate Motor Falke is increasingly in demand.
Developments since July: purchase of the on-site YS-53; tug hangar, doorless but operational; planning permission granted for site extension - credit; Astir out of commission awaiting mandatory mods for four months - debit.
Friends from Weston-super-Mare and Usk joined us again for the August task week. Strong winds limited our tasks but to compensate lan Mitchell (Eagle) aerotowed to the Quantocks each day, enjoying several hours' soaring with some beats out to sea beyond Dunster. On the second day he was joined by a K-13 and the Motor Falke. On the Thursday Mendip's Phil Hogarth (Skylark 4) took the only aerotow and disappeared downwind. Phil won the week with lan Mitchell runner-up, in spite of damaging the Eagle in a groundloop.
Air experience evenings have gone well, particularly a most satisfying evening for a group of disabled.
Don't forget, Competition Enterprise 1986 is back at North Hill.
I.D.K.
April - May 1986
Cold and sun conspired to pop thermals like champagne corks on January 25 when many gliders were launched to 1500 to 2000ft by our new winch, showing a 50% improvement in the launch rate.
Hedging and ditching for the NE extension is underway; a Sports Council grant decision is imminent. A small extension to the main hangar for improved hangar packing is progressing.
Dennis Gosling, John Middleton, Frank Smith and Carolyn Gamham have soloed; Eddie Bromwell, Dave Brummitt and John Pursey have their Bronze Cs and Chris Davison Silver C.
At the December AGM, John Fielden presented "Pop's Pot" for the second task week in memory of his father who had a long association with the club including 24yrs as vice-president; the first holder is Phil Hogarth. Other awards were: progress, Stephen Fitzgerald and Jonathan Smith; height gain, Simon Minson and lan Mitchell (Eagle); best cross-country and first task week, Tim Gardner; ladder, Dave Reilly (who else?); best competition, Gordon Peters and Tony Price and two-seater challenge, John Barrow and lan Mitchell (Eagle). Last year's "Wily Old Bird" was tugmaster Ken Jenkins.
I.D.K.
June – July 1986
Our 50% improved launch rate, mentioned in the last issue, was due to the trial use of two winches and four cables for peak demand. Latest update on the Supercat winch operation is that pilots can now control their launch speed themselves simply using their elevator: or so the theory goes. It seems to work, or perhaps...! Time will tell.
The weeks either side of Easter gave some good soaring but Easter is best described as "educational". Strong north-westerlies kept the west ridge working with thermal and low wave augmentation. Martyn Fisher (K-6e) got his 5hrs
Chris Miller has his MGPPL but the Motor Falke has disappeared for its C of A and some de-lamination repairs.
The airfield extension proceeds apace: drains going in and stumps coming out. Although our Sports Council grant was smaller than hoped for we are grateful for all support from whatever source - most of all from our members.
I.D.K.
August - September 1986
Our first task week has arrived with yet another Atlantic low and visitors from Usk and Perranporth share our grumbles this week.
Congratulations to lan Mitchell and Colin Watt on their assistant instructor ratings. Colin, with Simon Minson, logged over 40hrs in the Astir on a week's expedition to Sutton Bank while an expedition with a DG-100, LS-4 and Libelle is sampling Alpine soaring from ZeII-am-See.
Jonathan Smith gained his Silver height and distance on April 1 and his duration on April 20 when Ron Jones (K-18), Dave Farmer (K-6) and Geoff Darragh (PIK 20e) also gained their 5hrs and Guy Adams his Bronze legs. Ron flew to Salisbury for Silver distance on May 15 while Bill Evans, a Whirlwind pilot with innumerable power hours and types, added 5hrs in the K-6 to his logbook.
Chris Heide has completed his Bronze C and Martin Hopwood and Peter Hill have soloed, Peter having converted from power with considerable ease. Well done all.
Preparations for Competition Enterprise are well in hand. The second task week (August 11-16) may still have space for you - give us a ring this weekend.
I.D.K.
December 1986 – January 1987
The club diary indicates that summer was better than we thought, or perhaps the badge seekers are more switched on or desperate than the rest of us. Cross-countries have been limited to the few reasonable days, usually weekends, with four tasks in our second task week.
Silver claims have been made by John Pursey and Barry Gage (duration), Alan Peel and Phil Talbot (distance) and Ron Johns (two heights - the first got blasted off his barograph foil in an enthusiastic fixing fit). Des Firth and Carl Tharme have Bronze Cs and Les (R.G.) Hill a Bronze leg. Bert Hirst, David Maitland, John Cole, Mike Robinson, Malcolm Chant, Keith Lawrence and Lisa Brummitt have gone solo. Lisa's subsequent bid to fly the K-8 ought to be referred to the Monopolies Commission. Well done, all.
Only one task, a 86km O/R, was achieved during our "gloom in June" task week. A visitor from Perranporth suffered some handling damage to his Grunau Baby but consoled himself by taking a K-6 homeward for Silver distance. The Austrian expedition enjoyed better weather.
The August task week conditions were better and Colin Watt and Jonathan Smith flew the Club Astir into top place. Jonathan has also completed an instructors' course before his 18th birthday.
In late August a home-built Monerai was test flown by Roy Proctor.
I.D.K.
February – March 1987
Our 1986 launch rate isn't much down on the previous year, with Competition Enterprise helping to give us a total of nearly 33000km.
Congratulations to Peter Hill on his Bronze C. As he has a PPL, we are hoping he will become a tug pilot.
The field extension is coming on slowly with the grass seed germinating.
D.A.R.
April - May 1987
Our AGM in December was well attended. Tim Parsons has taken over from Julien Hine as CFI with Chris Miller as deputy. Mike Robins has resigned as secretary due to ill health and is replaced by Joe Watts, Dave Minson is chairman and Eric Shore the president/treasurer.
A stationary cumulus over the site on New Year's day gave good soaring to the 2500ft cloudbase. In mid January several dug through six foot snow drifts and were rewarded with ridge soaring. Norman Jones started the year with 20min on the south ridge. Peter Hill joins the tug pilots and congratulations to lan Hannah on going solo.
We learn with deep regret of the death of lan Patterson who will be greatly missed by members and his many friends from past Enterprise competitions.
D.A.R.
June - July 1987
We are looking forward to increased activity this season as Les Hill and Ken Jenkins will open the club on Wednesdays and Dave Reilly will do the same on Mondays, Tuesdays and Fridays when available. These offers are greatly appreciated and mean we can operate for nearly seven days a week.
Inclement weather reduced flying during February and March but we had the first cross-country in the middle of March by Colin Watts who inadvertently landed out about three miles away!
D.A.R.
August - September 1987
We are using the new field extension which gives increased manoeuvring space, particularly on the SW runway.
A northerly wind in May produced wave in which Ron Johns climbed to 7000ft and Martin Fisher over 5000ft. Roy Hadley gained Silver distance and height on a 105km flight to Salisbury. Congratulations also to Alan Rappaport, Philip Hickman, Alan Thorougate and Tim Towers on going solo.
D.A.R.
October - November 1987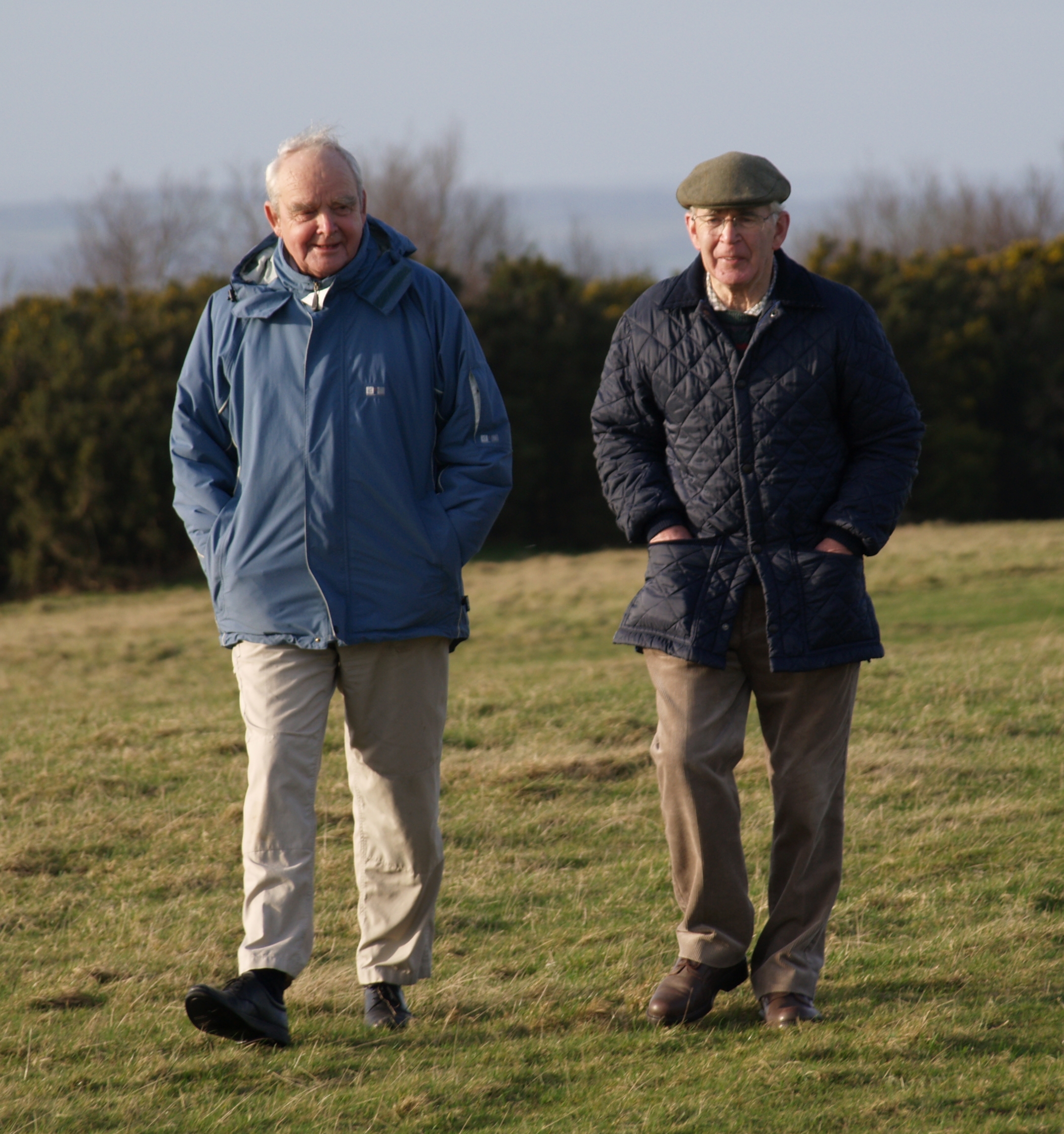 Our summer courses started in June with good weather and Arthur Wood, John Pritchard and John Schofield went solo during the first week under the watchful eyes of Gordon Peters and Les Hill.

The June task week had a good entry but indifferent weather with only three flying days. The visitors flew 792km and the club members 753km, the winner being Tim Gardner with Mike Lee from Rattlesden 2nd and Steve Reed from Usk 3rd.
With a fast growing membership instructors have found it difficult knowing the flying capabilities of pilots so in July a colour card system was introduced which should be easier than having to read through logbooks. Our thanks to our CFI and Mike and Vivienne Fitzgerald for working out the somewhat complicated details.
Congratulations to Tim Towers on his first Bronze leg and to Brian Way on going solo.
D.A.R.
December 1987 – January 1988
Our second task week from August 3-8 was very successful with over 5000km flown. First was Dave Reilly (Libelle) with Colin Watts and lan Stone 2nd in the club K-18 and Julien Hine (DG-100) 3rd. Julien flew Diamond goal, Colin completed his Gold badge and Johnathon Smith flew Gold distance. Our thanks to Tim Gardner and his assistants for making it so successful.
Silver height was claimed by Rex Grayling Ron Smith and Bill Hatch; Steve Robson Silver distance and 5hrs to complete his Silver C with 5hrs for Rex Grayling, Bob Chant, Bill Hatch and Peter Hill. Our congratulations to them all
D.A.R.
April - May 1988
The AGM in December was well attended and reports from the chairman and treasurer showed a big improvement in our finances with the result we hope to buy another K-13, giving us three two-seaters to greatly help cross-country training.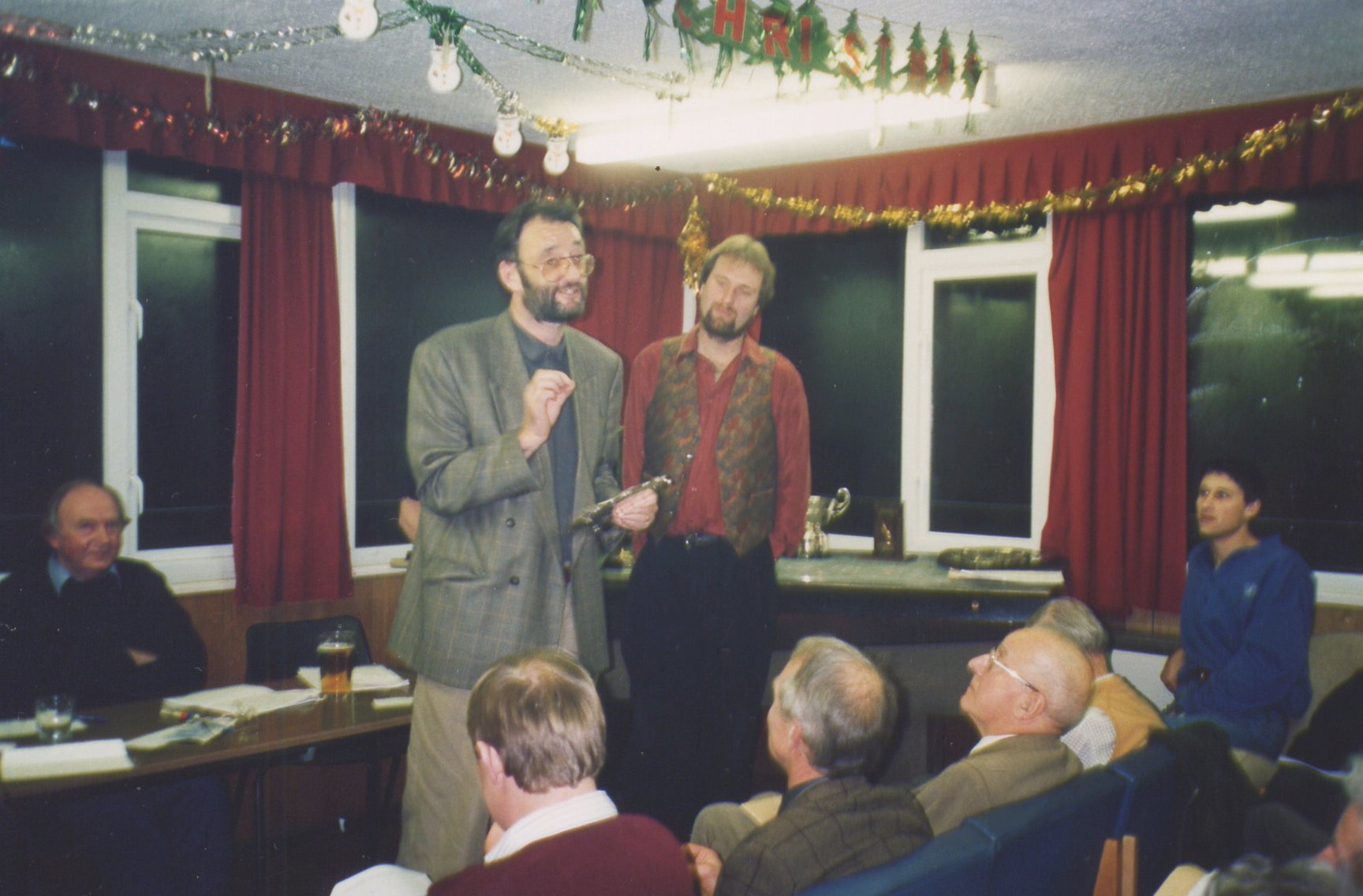 The president/treasurer, Eric Shore, chairman, Dave Minson, vice-chairman, Les Hill, and the secretary, Joe Watt, were re-elected with Ken Jenkins, Barry Salter, Eddie Bromwell, Dave Brumitt, Simon Minson and Ron Smith on the committee. The AGM was followed by a buffet and disco.
Despite the wet weather, January gave us some good soaring days.
D.A.R.
June - July 1988
We have had good thermal and ridge soaring during the last two months. Congratulations to Alan Bromley and Roger Clarke on going solo.
Our new communication system is progressing well and it should soon be possible for members to contact control from outside the field to find out how the flying is going.
D.A.R.
August - September 1988
The season began well for the club ladder with Rob Johns flying 161km to Lasham and Dave Reilly a 114km O/R. Our courses, with Les Hill and Tim Gardner as instructors, started very successfully in May.
We thank Dave Brummitt for running the bar for 2yrs and Simon Minson for taking over.
D.A.R.
October - November 1988
Brackney GC visited us with our club Bergfalke of three years ago. Congratulations to Peter Rowe and John Cobley on going solo; to Guy Adams on Silver distance and height and instructor Simon Minson on completing his Gold badge at Talgarth. Our trial instruction evenings continue to bring us potential members.
E.C.W.
Obituary - Terry Jenvey
It is with great regret that we report the death of Terry after a short illness.
Terry, a full Cat instructor for many years, earned the respect of everyone. His enthusiasm and dedication in everything he did was an example to all of us. His presence will be sadly missed.
We extend our condolences to his mother and family.
Edward C. Wilcox
October - November 1988
At our well attended AGM in December David Minson retired as chairman after 12 years' dedicated, enthusiastic service. Les Hill has taken over. David Reilly took his usual clutch of trophies.
Our CFI, Tim Parsons, has a mysterious illness which has temporarily grounded him. Chris Miller, DCFI, is acting CFI. We wish Tim our good wishes and hope he will soon be flying.
The mixed weather has given such extremes as John Pursey gaining Silver height and Tim Gardner doing simulated cable breaks at 300ft. We await delivery of our K-13.
E.C.N.
June - July 1989
Due to Tim Parsons's illness he has handed over as CFI to Chris Miller with Les Hill as DCFI. There is doubt that Tim will be able to fly again and for the time being we have lost a first class CFI and a great gliding enthusiast. We all wish him well. We are extending the side of the main hangar to house winches and tractors.
Wet, windy weather has limited flying but Dave Reilly (Libelle) flew to the Mendips GC, taking 5hrs 2min - a determined effort!
Our training programme continues with several ab-initios waiting for course places.
E.C.W.
August - September 1989
Holiday courses are having good flying conditions and the BGA soaring course was well attended. Work continues on the Super Falke hangar.
Good conditions have produced an O/R to Okehampton for Ron Johns; Silver distance and duration for Chris Heide and Silver distances for Dave Brummit, John Pursey, Malcolm Chant and Peter Craggs.
Dave Reilly wasn't satisfied with his 100km triangle in 1hr 24min so went round again in 1hr 15min.
Membership is well up with a full list awaiting training.
E.C.N.
Obituary - Kenneth J. S. Andrews
It is with great sadness I report the death of Ken Andrews on April 16.
Ken's introduction to gliding was unusual. Commissioned in the Army, he learned to fly on Tiger Moths, Magisters and Stearman PTs. He then moved to the Glider Regiment flying Horsas, Hotspurs and Hadrians. He landed safely at Arnhem with a small platoon which included Lt Gen "Boy" Browning and such was the calibre of Ken's leadership that his group was one of the few who escaped from what he modestly described as a "rather silly caper". Retiring after the war as a Lt Col and awarded the MBE, he moved to Devon and joined the club in 1975.
Ken was one of that rare breed of men - quiet, unassuming, unflappable, yet with an infectious personality, a wonderful sense of humour and, above all, a remarkable ability to endear himself to all. Many visitors will remember him as the calm, efficient director of Competition Enterprise.
He will be sadly missed by the club, particularly his syndicate members. It was a privilege to have known him and we extend our condolences to his wife, Valerie, and his family.
Edward C. Willcox
October - November 1989
There were seven flying days for the BGA's cross-country and soaring course. By the end Chris Rollings had convinced us pilots can reach out even in grotty visibility, progress can be made against a stiff breeze and that there was a Diamond goal to be taken on even this mediocre week.
Instructors Barry Salter and Gordon Peters took a combined 30 years to convert their Bronze coats to Silver. Guy Adams needed a few months while Alan Rappaport only asked for five days.
Richard Harris and Susan Bold got their 5hrs, Chris Banting Silver height and D.Greig and M.Iles went solo.
Both drums of Supacat sport stranded cable so simulated cable breaks are now in the majority.
G.P.
Obituary - Tim Parsons
After an illness of just over six months Tim Parsons, our CFI, has died.
He will be sorely missed, from his shout "Mind that so-and-so canopy" to the incredible effort he put into every task from being a top instructor to fixing the drains. Everything was approached with full power; no job was too lowly.
Our deepest sympathy goes to Meg, Nicholas and Tammy.
Peter Warren
December 1989 – January 1990
Don Jones and Dav Puttock in the Libelle outflew local and visiting hotrods to win the task week with lan King, in the club's K-6, a commendable 3rd.
The dry summer gave continuous but not outstanding soaring enabling Richard Bonner to solo and Stan Yeo to resolo after 28yrs. Phil Whithead gained Silver height, Mike Sanson his 5hrs and Peter Craggs completed his Silver badge. Mike Fairclough found 300km no more difficult from North Hill than he had in Florida and Martin Fisher enjoyed wave flying over the clubhouse.
Jo Acreman's gang delight in their lovingly restored T-21.
G.P.