The Wily Old Bird Trophy is awarded annually and is a personal presentation by the CFI to someone who has displayed a particular degree of ingenuity, imagination, tenacity, determination or cunning.
The trophy, skilfully executed in clay depicting a Wily Old Bird, was presented by Ken Andrews.
In 2021, it was awarded to Chris Wool.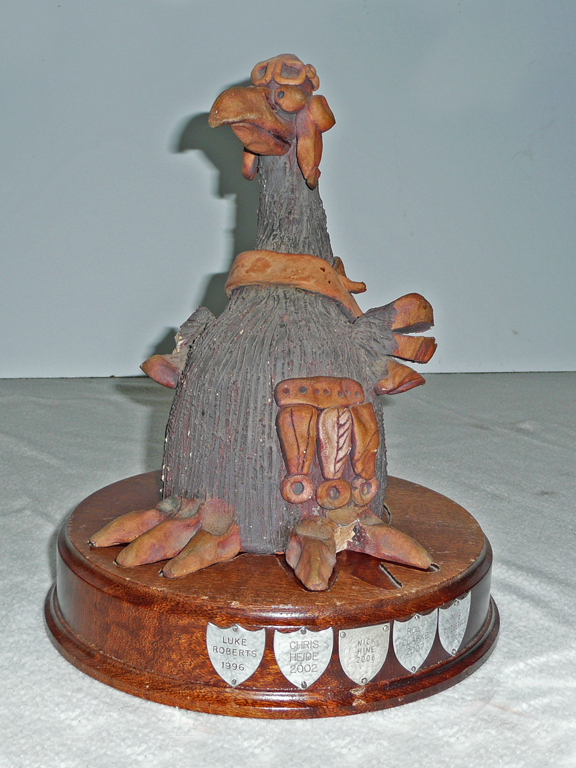 | | |
| --- | --- |
| Year | Awarded to: |
| 2021 | Chris Wool |
| 2020 | not awarded (Covid19) |
| 2019 | Stirling Melhuish |
| 2018 | Tom Sides |
| 2017 | Robert Lee |
| 2016 | John Street |
| 2015 | Liam Vile |
| 2014 | Family Bennett |
| 2013 | Eric Alston, Chris Heide |
| 2012 | John Burrow |
| 2011 | Les Hill |
| 2010 | Henry Ford |
| 2009 | Pete Callaghan |
| 2008 | Mike Fitzgerald |
| 2007 | Roly Clarke |
| 2006 | Nick Hine |
| 2005 | Mike Robinson |
| 2004 | Hal Newberry |
| 2003 | John Street |
| 2002 | Chris Heide |
| 2001 | |
| 2000 | |
| 1999 | |
| 1998 | |
| 1997 | |
| 1996 | |
| 1995 | Dave Edwards Snr |
| 1994 | Ron Johns |
| 1993 | Rex Grayling |
| 1992 | Ian Davison |
| 1991 | David Greig |
| 1990 | Brian Weare |
| 1989 | |
| 1988 | |
| 1987 | |
| 1986 | |
| 1985 | Ken Jenkins |
| 1984 | Ian Beckett |
| 1983 | Dave Minson |
| 1982 | John Boley |
| 1981 | Eric Shore |
| 1980 | |
| 1979 | |
| 1978 | |
| 1977 | |
| 1976 | |
| 1975 | |
| 1974 | |
| 1973 | |
| 1972 | |
| 1971 | |
| 1970 | |
| 1969 | |
| 1968 | |
| 1967 | |
| 1966 | |
| 1965 | |
| 1964 | |
| 1963 | |
| 1962 | |
| 1961 | |
| 1960 | |
| 1959 | |
| 1958 | |