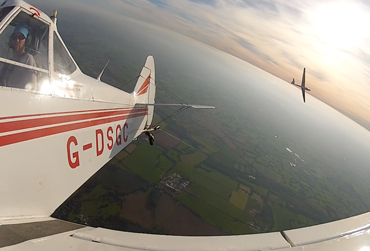 If you would like to take up gliding, or are looking for a thrilling day out, or an unusual gift, a trial lesson is an ideal introduction to this exhilarating sport.
Use our online system to book a trial lesson on our usual flying days.
The Devon and Somerset Gliding Club offers an opportunity so that members of the public can experience at first hand the thrill of silent flight.
Trial lessons are bookable on our normal Club flying days - Wednesday, Thursday, Saturday and Sunday.
You can have a flight of approximately 20 minutes (max 30mins depending on weather) with an instructor in one of the club's two-seater training aircraft. You can elect to take the controls yourself or just experience the sensations.
We also offer a Mile High flight which includes a flight of approximately 30 minutes (max 60mins depending on weather) going to one Mile above sea level (4360ft above North Hill).
Depending on the weather you will experience ridge lift, soar in thermals, or perhaps fly in "wave" or simply float down from an aerotow. Either way it is the experience of a lifetime floating quietly and effortlessly above some of Devon's most spectacular countryside. From a typical aerotow, as well as the local Blackdown Hills, Exmoor and Dartmoor, you can usually see both south and north Devon coasts and sometimes across to Wales.
Please read the Terms and Conditions before proceeding to purchase.
Please make sure that you check the restrictions on pilot height and weight before purchasing a Trial Lesson voucher. Young people under the age of 18 will require a parent or guardian's written consent. Also there are a few medical conditions which may make it unsafe to fly.
Please also see the airfield layout and safety notices.